'The Wedding Artisans' touch on your special day
By Raj Moorthy
View(s):
Making someone's big day a memorable one has always been a challenge and risk for any event planner, floral artist, photographer, videographer and everyone else involved in organizing the event. Creating the perfect match of colours and textures of fabric and come to a perfect decision is a risk that artists take when designing and sketching how it would look like by the end of the day.
Mirror magazine met Hamna Kizar, founder of 'The Wedding Artisans' for a chat about her company. She has been running the company now for the past six years while being an interior designer by profession.
Hamna's love and passion for creative décor and rather the ability to customize designs that are unique to each of her clientele is what that has triggered her to come a long way since day one. She started with floral décor for weddings initially and later moved into planning events such as birthday parties, mehendi functions, bridal showers and so on and today she manages up to five to six big events in any given month. Her ideology has always been not to repeat the same concept and design to another client. She customizes her designs to a clients' requirements; designs that are new and unique to make that special day of someone, memorable.
While she continues her Interior Design Degree at the Academy of Design in Colombo, she started wedding décor on a small scale during her free time and later developed the business to high standard conceptual wedding designs. During a client briefing she absorbs the idea of what the client would want their big day to look like, the budgets they are willing to spend and come up with a sketch depicting everything in detail of how the final outcome would look like. She said, "A sketch of the design plays a big role of what the clients would expect at the event. Even though you sketch out everything and show the client, till the last minute before everything is set, as a floral designer I am on pins. It's a huge risk that we take as floral designers when we run short of flowers during rainy season. All our flowers are natural flowers and handpicked from suppliers who source them from various parts of the country."
Clients can be very flexible at times and sometimes they could be very precise on every minute aspect in certain designs. "We take that extra mile to satisfy the customer as best we could to make it look as what they wanted it to be," she added.
She also mentioned that there are no set package rates for their floral décor, but depending on the clients' requirement and their budgets they play around to put up the maximum that can fit in to make the event look great.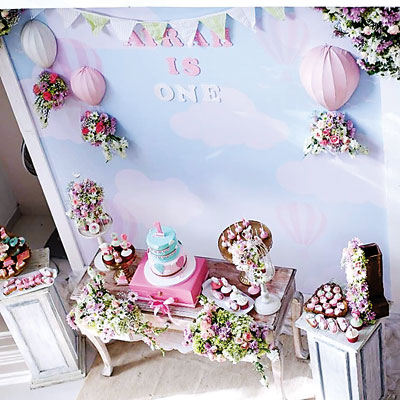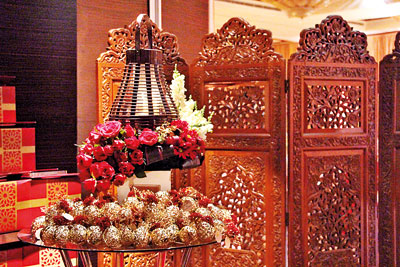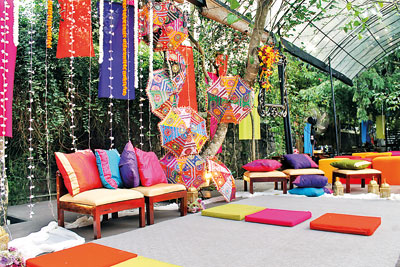 For more information on
'The Wedding Artisans'
visit their facebook page
facebook.com/theweddingartisans/ and Instagram
instagram.com/theweddingartisans/