'Burning Birds' in the air
By Susitha R. Fernando
Sanjeewa Pushpakumara's internationally acclaimed 'Devena Vihagun' from June 29
View(s):
Internationally awarded young filmmaker Sanjeewa Pushpakumara's much awaited second direction 'Davena Vihagun' (Burning Birds) will be released by the National Film Corporation (NFC) through its Rithma circuit cinemas from June 29.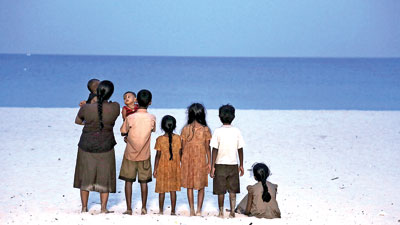 'Davena Vihagun' became one of the much talked about Sri Lankan films internationally with awards being won at a number of international film festivals.
It won the Special Jury Prize (the second place) at the 17th Tokyo FILMeX International Film Festival and won the Best Picture and Young Jury Prize at 15th Geneva International Film Festival (FIFDH). In addition, Anoma Janadari won the Best Actress award at the Asian World Film Festival 2017 in Los Angeles for her role in 'Devana Vihagun'.
It also secured the 17th place by receiving enthusiastic ovation from the audience among 168 films at the 46th Rotterdam International Film Festival in Rotterdam.
The film was premiered in the New Currents Competition of Busan Film Festival in Korea and also became the first ever Sri Lankan film to be nominated for the Ingmar Bergman Award at the Gothenburg Film Festival in Sweden. The film has been invited to more than 25 International Film Festivals including Locarno, Munich and Pune.
Written by Sanjeewa himself, the film reflects a story behind a noble mother and daughter who sacrifice and dedicate their lives to create a better livelihood for their children and siblings after the killing of their husband and father by an unknown armed group.
A production involving an international collaboration between France, Doha Qatar, Sri Lanka and the Netherlands, 'Burning Birds' was produced by Antonin Dedet and Dominique Welinski on behalf of 'Neon Production' in France and Sanjeewa Pushpakumara on behalf of 'Sapushpa Expressions' in Sri Lanka.
Mahendra Perera, Samanalee Fonseka, Anoma Janadari, Chandani Senevirathne, L‍eonie Kotalawala, Pubudu Chathuranga, Priyanka Samaraweera, Dasun Pathirana, Tissa Bandaranayaka, Shyam Fernando, Dharshan Dharmaraj, Sanjeewa Dissanayake and Dharmapriya Dias are featured in the film.
The cinematographer of the film is Kalinga Deshapriya, editors – Ajith Ramanayake and Katharina Wartena, make up by – Priyantha Dissanayaka, Art director – Piyathissa Akurambada, Costume Designer – Ajantha Alahakoon, sound engineers – Nicolas D'halluin and Aruna Priyantha Kaluarachchi, colour grading – Elie Akoka, Assistant director – Aruna Thilakarathne, second sssistant director – Niroshan Edirimanna and production manager- Harold Karunathilaka contributed to the film.