Bibishana in five films promoting coexistence
View(s):

Talented actor Bibishana Kurera has recently played in five short films made with the theme of promoting coexistence among different ethnic groups.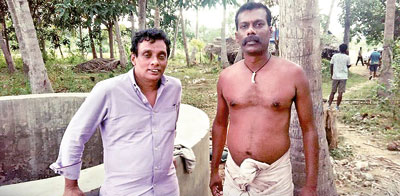 Titled 'Red', 'Green', 'Blue', 'White' and 'Yellow' were made by five Sri Lankan filmmakers, who live in Canada and Australia. While three of these filmmakers living in Canada, two live in Australia.
All these filmmakers are students who studied cinema under the late cinematographer Andrew Jayamanne.
Bibishana too followed the SIGNIS Cinema course under Andrew Jayamanne and Rev. Fr. Cyril Gamini.
Bibhishana played a lead role in Prasanna Vithanage's 'Usaviya Nihandai' – 'Silence in Court' and 'Premaya Nam' directed by two brothers Kalpana and Vindana Ariyawansha.
Bibishana also plays a role 'Rankiri Amma', a teledrama directed by Damayanthi Fonseka.