Will Sri Lanka survive, even in its flawed State?
View(s):

On a visit to Myanmar last year, reputed Buddhist lay leaders who disapproved of incendiary anti-minority rhetoric engaged in by nationalist monk U Wirathu, were emphatic in their conversations with me that, 'making him a martyr of the State' would be the best possible media boost that he could get.

'Marginalising him is a far better way to dilute the messages of hate that he preaches' they opined. That was just prior to Myanmar's State Sangha Maha Nayaka Committee prohibiting him from speaking for one year after determining that his statements had the potential to cause hatred and riots in the country.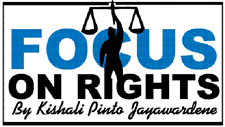 Dangers of rabble-rousing rhetoric
That ban had little effect however as the monk continued his tirades, speaking of 'marauding" Muslims even as the Rakhine people fled the country in what is now ranked as among the worst humanitarian crises of the decade. Surrounded by young men dressed in white and speaking softly in an odd contrast to the dark menace of what was articulated, he went on to label his critics as "terrorists", openly mocking attempts to rein him in. Earlier this year, the one year ban lapsed but his followers had increased.
Where rabble-rousing religious rhetoric is concerned, some aspects of Myanmar's turbulence are evidenced in Sri Lanka though there are noticeable departures. Up to this point at least, the Buddhist populace in Sri Lanka has kept both its good sense and its maturity by rejecting inflammatory outbursts of mischief makers. It is hoped that the same equanimity would prevail in regard to the antics of the Bodu Bala Sena outside the Homagama Magistrate's Court.
As its Secretary, Galagoda Atte Gnanasara Thera was released on bail following the conviction of threatening and intimidating Sandhya Ekneligoda during a habeas corpus hearing into the disappearance of her husband, black flags adorned Colombo and posters proclaimed the need to rise up against threats to Buddhism. These are not reassuring developments in any sense.
Need to acknowledge ground realties
That said, it must also be pointed out that refusal to acknowledge the complexities of growing tensions between the Buddhist majority and the Muslim minority in this country only contributes to the problem. Myopia on the part of a few ensconced in 'projects on reconciliation' and churning out conference papers and the like ignore the fact that these interventions, often circulating in select circles, have negligible impact on ground realities. And to be clear, by referring to the importance of engagement with affected communities, I do not mean donor funded efforts but actual social mobilization in the style of India's famed civic action movements.
One example of this myopia for example was a response that I received to a column (An unhappy Lanka and an unfortunate people, Sunday Times, March 11, 2018) written after recent violence in Kandy which had reflected on a conversation with a fellow passenger when returning to Sri Lanka, where he had commented on the growing insularity of Muslim communities in his village in Mawanella. I was asked with considerable angst by my email interlocutor as to why I had reproduced this conversation 'uncritically' with the inference being that this was someone from an economically 'privileged' position (apparently based on the fact that he was engaging in air travel).
My response was that, far from being 'uncritical', that same column had also referred to devastation caused by the post 2009 entrenching of the Sinhala Buddhist majority mindset and the resultant deficit of trust between communities. Further that, far from being 'privileged', my conversationalist was someone from the village who had undertaken post graduate studies on a scholarship and was returning to his country to work in the sciences. And that his view was articulated more with a sense of sadness than vitriol.
Greater sagacity should prevail
This response to what was articulated in these column spaces says much about the inability to engage in critical thinking. Certainly that lack of foresight does not bode well for the upheavals that lie ahead. The call made by a senior monk of the Asgiriya Chapter to former Defence Secretary, Gotabhaya Rajapaksa to the effect that if he is called a Hitler, then he should 'be a Hitler and build the country' is telling of what may be in store. Quite apart from the scant logic in this statement, since Adolf Hitler of the Third Reich was known more for destroying Germany than building it, this airy brushing aside of its atrocities is stupefying. Later attempts by the Asgiriya monk to downplay what was said, added to the monumental faux pas, if that can be so termed.
Greater sagacity should surely prevail on the part of the learned monks of the Malwatta and Asgiriya monastic establishments as opposed to the contortions of the BBS. But as grotesquely misplaced as the reference to Hitler was, this has been propelled by well-aimed charges of 'leaderless', 'rudderless' and 'directionless' leveled against the Unity Government. Its quarreling leaders, President Maithripala Sirisena and Prime Ranil Wickremesinghe should accept full responsibility for that indictment. Mercifully, there appears to be a toning down of the hostility at least on public platforms.
But that is not enough. Determined leadership should practically address the looming political, social, religious and communal chaos. Absent that determination, it is uncertain as to whether Sri Lanka will survive, even in its flawed Republic-state.