Bottled water sector sees new entrants
View(s):
Sri Lanka's bottled water usage is growing especially within urban areas where the availability and convenience of bottled water is helping it grow.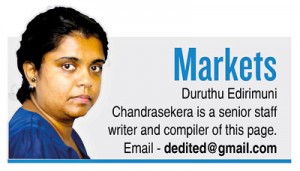 These factors along with a heightened emphasis on healthy lifestyles and improved consumer awareness of the need for proper hydration which have led many consumers to shift from traditional beverage preferences toward bottled water have assisted Elephant House and Coca Cola – two major players in the bottled beverage space – to launch bottled water.
Elephant House bottled drinking water was launched in June 2018 while in the case of Coca Cola-launched Kinley water, it was about two months ago in Sri Lanka. Water is a much commoditised product and based on the pricing, it seems like they are competing with the established brands such as American Water and Aquafina, analysts say.
Elephant House's 1.5 litre bottle drinking is selling at Rs. 80 at Keells supermarkets. American Water and Aquafina brands also retail at Rs.80 per 1.5 litre. Keells' own brand of bottled drinking water sells at Rs.60 per 1.5 litre. Analysts say that by tapping into a growing health and wellbeing consciousness on the part of consumers, the increased health awareness has helped position bottled water as an alternative to carbonated soft drinks and juice drinks.
Bottled water is thought to be safer than municipal tap water and an alternative choice to high calorie carbonated beverages. "However, competition is tough, and most players have bulk sales as well as retail sales in order to maintain volumes," an analyst noted. Bulk sales are done to the offices, restaurants and other establishments where the 15 litre bottles are sold in bulk. There are many small producers that try to access the market with low price and differentiation strategies, but these businesses do not have the scale and scope of the huge bottled water production companies.
Another emerging trend, especially among urban youth is the rising popularity of isotonic drinks. These are gaining traction with more young adults focusing on exercise and working out beginning to replace isotonic drinks with water. It's a significant trend overseas, but not so much in Sri Lanka, analysts say.
The main factor that differentiates bottled water from other soft drinks is that it caters to a health-conscious market because it has no sugar and no calories. "With the needs of the 'now' population of millennials, to launch bottled water is a progressive initiate," the analyst noted. However, today while there are several healthy soft drinks that are 'zero-sugar added', 'zero-calorie' alternatives to water and bottled water manufacturers will be facing this type of competition as well, another analyst said.