ICU syndrome is real and it needs to be tackled
By Kumudini Hettiarachchi
View(s):
It is known by many names but now doctors are quick to identify it and make all efforts to take away what can become double jeopardy to a patient. In many instances it could be the very environment that a person is compelled to be kept in for his/her greater good that can actually trigger the illness.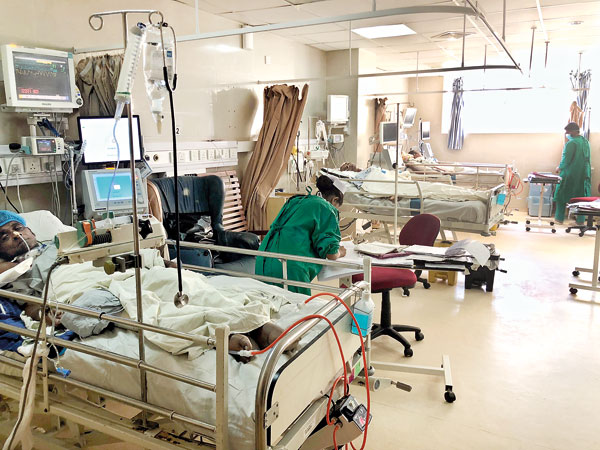 The very buzz of an intensely-cold Intensive Care Unit (ICU), where the bright lights shine on patients day and night, the life-sustaining machines beep all the time, the staff – both doctors and nurses – is on their feet, checking vital signs and constantly on monitoring-mode can very well be a cause of this illness.
The incidence of ICU Syndrome also known as ICU Psychosis or ICU Delirium is 45-88%, according to studies, MediScene learns with those more commonly affected being ventilated patients (connected to breathing machines). While some patients may be susceptible even after a day in the ICU, usually it will take about five days for the ICU Syndrome to manifest symptoms and could last from 24 hours to weeks, it is understood.
"It's a condition seen in patients in an ICU or kept in a similar environment," says Intensivist Dr. Chamali Aluwihare who is attached to the National Hospital of Sri Lanka (NHSL), pointing out that ICU Syndrome is an acute change in the thinking pattern of a patient.
As preparations were underway to celebrate the setting up of the very first ICU in Sri Lanka at the NHSL 50 years ago on June 15, she explains that ICU Syndrome is "disordered thinking or a fluctuating level of consciousness which comes about due to the environment in the ICU".
According to Dr. Aluwihare patients who are beset by the ICU Syndrome will fall into a spectrum — from 'mild to severe'.
"Some could be calm and disoriented not knowing the time of day or where they are, some could be not quite there, while others could be very anxious, agitated and even hallucinating," she says.
The causes can be environmental, sensory or medical, MediScene learns. n Environmental causes could be due to the patient being away from his/her usual surroundings in an unfamiliar place, completely cut off from kith and kin and feeling isolated.  Sensory deprivation arising out of being cut off from the rest of the world.
Medical causes could be due to pain generated by an acute condition such as surgery or trauma; a critical illness which generates a stress-response; invasive procedures which compulsorily need to be performed in an ICU for the monitoring of a patient; organ failure involving the heart, lung, liver or kidney; sedation; an infection; dehydration; and rarely medications administered to the patient.
Dr. Aluwihare creates an image of someone suddenly finding himself/herself in a room where there is no sense of day and night. A room where there are no windows, where one simply does not know whether it is sunny or rainy outside, where one cannot even see a plant or a tree.
"Add to this the reality in an ICU that the patient is sleep-deprived due to alarms going off continuously, the lights being on all the time and he/she seeing only staff in scrubs or others in the same room like him/her with invasive tubes snaking around," she says.
Reiterating that doctors manning ICUs are very well aware of this syndrome, she explains that they look for symptoms of delirium which they measure using a tool called CAM-ICU score by asking the patient a set of questions to check out awareness. Even if the patient has to be kept under sedation, they wake him/her up every morning, while providing adequate pain relief, avoiding unnecessary medications and also keeping him/her well hydrated. The patient may be sedated but can hear what is happening around.
Doctors and nurses take simple measures to prevent ICU Syndrome — "We encourage family members to visit, talk and spend time with the patient, we show the patient a clock and indicate the time of day and also discuss what day it is," says Dr. Aluwihare, pointing out that in the developed world sunlit parks with lush greenery and lots of people strolling around are projected into the ICU for the patients to get a glimpse of the outside world.
While stringent efforts are made both by doctors and nurses to prevent ICU Syndrome and also detect it early, she adds that it is only as a last resort that anti-psychotic medication would be administered on the advice of a psychiatrist.
This is done when there is the danger of a patient pulling out the tubes and harming himself/herself which would set back the original condition as well.