Vesak Day at the London Buddhist Vihara
View(s):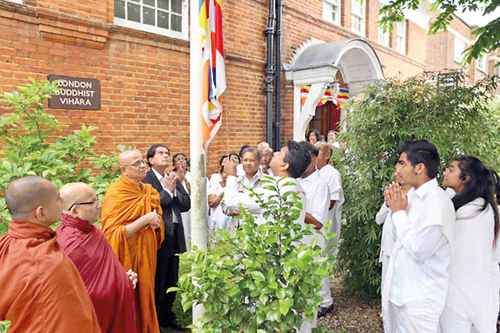 The London Buddhist Vihara celebrated this year's Vesak Day on May 27,Sunday, closest day to the full moon day of the month of May, with a full day's religious programmes. A separate programme for Rahula Dhamma School children was held on Saturday, 26th.
The  Vesak programme commenced with the hoisting of the Buddhist flag by the Acting High Commissioner for Sri Lanka in the United Kingdom, Sugeeshwara Gunaratna, followed by the lighting of the traditional lamp. Head of the London Buddhist Vihara and the Chief Sangha Nayaka of Great Britain Most Venerable Bogoda Seelawimala Nayaka Thera administered the Eight Precepts, Ata Sil. More than 150 devotees from various communities observed Ata Sil.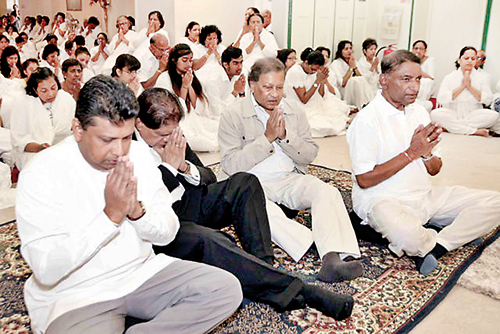 Ven. Thawalama Bandula Thera conducted the Buddha, Buddha Vandana followed by a short instruction and practice session on meditation by Ven. Kalugamuwe Kassapa Thera. Ven. H.Pannavamsa Thera delivered the morning sermon entitled " Conditional Relations". Ven. Kassapa Thera conducted Buddha Puja. Vesak day's mid day Dhana for the Maha Sangha, devotees who observed Ata Sil and lunch for the others was arranged by Priyantha Perera and family, Ravi Sandhanayaka, Bandula De Silva, Kapila,Jayanthi, Shanthi, Hiranthi and their friends and families.
Dr Aruna Gamage, a Senior Lecturer at the Kelaniya University, presently at SOAS, University of London, gave a special talk on " Ultimate Truth hidden in indirect teaching in Tripitaka". Renowned astronomer Prof. Chandra Wickramasinghe delivered the Vesak Day's keynote speech.. His talk was based on "Buddhism and the Cosmos, Extending the bounds of human sympathy."
The  programme ended with a Bhakthi Geetha programme by the Dhamma School teachers and parents.