Ruk Raks day on Kinross beach
View(s):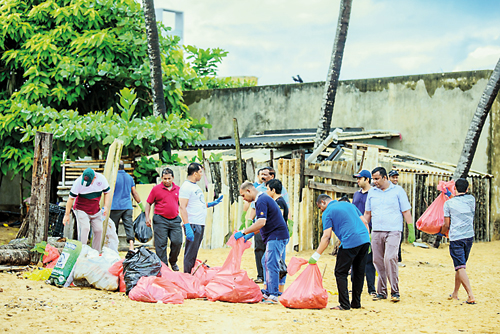 Ruk Rakaganno together with Global Towers Hotel recently held a beach clean up at the Kinross beach in Wellawatte.
After hearing a presentation by Vimukthi Weeratunga, wildlife biologist of Nature Trails, the CEO of Global Towers lent a hand with the hotel supplying gloves and garbage bags for collection- and giving the very tired volunteers up some welcome refreshment at the end of the clean-up
The volunteers began work at 6 a.m. and worked hard until 9 a.m. Ruk Rakaganno members and their friends, the hotel Welfare Society, the Colombo Municipal Council, people passing by, including three wheeler drivers lent a hand. Over 60 garbage bags full of trash were collected. This from a small stretch of beach not even ½ an acre in extent. Abans later took all the rubbish bags away.
We found that we were cleaning at a place where the Wellawatte canal was emptying into the sea. It had brought, and is bringing, according to the Environmental Police, large amounts of rubbish thrown into it by residents living close to the canal in addition to the pollution caused by the beach walkers. The CMC and police should do something about this, said a member of Ruk Rakaganno.