Monastery turns salon in an act of giving
By Oshani Alwis
Devotees of Mahamevnawa Dhammachetiya in Anuradhapura donate their hair for wigs at an event organised by the Indira Cancer Trust
View(s):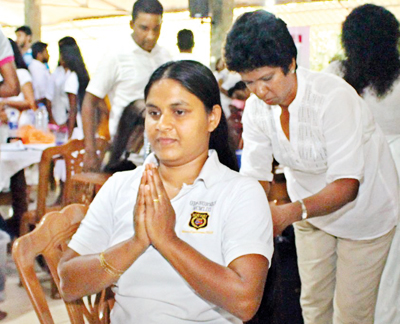 Straight and wavy, black and grey, permed and coloured, long and short…..all would go for one cause.
The hair donation campaign, a welfare project for cancer patients has grown rapidly since its inception a year ago, bringing hope to hundreds of women and girls battling cancer. The locks donated go to make wigs for patients suffering from cancer and would be the reason tomorrow for a young girl to look into the mirror and smile.
On April 30, the day following Vesak, the Anuaradhapura Mahamevnawa Dhammachetiya Monastery was crowded with 806 hair donors who lined up patiently to donate their hair to make wigs for cancer patients.
The programme called the "kesha kalapa Puja" was conducted under the auspices of  Ven. Kiribathgoda Gnanananda Thera, founder of Mahamevnawa Buddhist Monastery.
The event was organised by the Indira Cancer Trust and Ramani Fernando Salons with the support of the devotees of Mahamevnawa Monastery. Ven. Assaji Thera, resident monk at the Monastery speaking about the programme said, "The devotees already knew about the ongoing hair donation campaign and they all wanted to contribute for the deed of merit.We witnessed the satisfaction of giving away from all age groups."  According to Assaji Thera, the day demonstrated the quality of Mudita in Buddhism; the pleasure achieved by witnessing other people's well-being as the donors were delighted to know that their hair would go to make some woman beautiful.
The volunteers from Indira Cancer Trust and Ramani Fernando's team supported the donors and at the end of the day 37kg of hair was collected. Speaking about the event with much enthusiasm veteran beautician Ramani Fernando says, "We just expected around 300 donors but we were amazed to see so many when we reached the monastery. Twenty of my team did the haircuts. Most of them being Buddhist they were happy to be a part of the deed specially during the Vesak season." Every day three- four donors visit Ramani Fernando salons to donate their hair.
Many were the men and women who shaved off  all their hair and little girls who were eager to donate hair for other girls suffering from hair loss as a result of the cancer treatment.
The only human hair wig manufacturer in Sri Lanka Lalith Dharmawardhana took up the challenging task of making wigs for cancer patients at a concessionary price. Each wig requires around 4-5 'pony tails' and should be sewed strand by strand which takes around two weeks to complete.
Hair donation an ongoing project
The hair donation campaign is an ongoing project. Anyone interested in donating their hair for a cancer sufferer can contact any of the 14 Ramani Fernando Salons in Sri Lanka and walk in from Monday to Thursday after a prior appointment. Hair should be at least 12 inches in length, clean, free of oil, mousse, gel, hairspray or other material.

The donor will receive a free hair cut and blow dry after the donation.

To sponsor a wig for a cancer patient or to make a request to obtain a wig contact the Indira Cancer Trust helpline  0112363211 for more information.
The Indira Cancer Trust

The Indira Cancer Trust is inspired by Indira Jayasuriya (daughter of the Speaker of Parliament, Karu Jayasuriya) who passed away after a brave battle with cancer, leaving behind her husband and two young children.

The Trust founded in 2016 currently carries out 22 projects to upgrade the living conditions of cancer patients and their families. Teaming up with Apeksha Hospital, Maharagama and many other corporate sector contributors, the Trust has 275 active volunteers and trained counsellors dedicated to the well-being of patients.

The Trust operates a cancer helpline 0112363211 which is responsive to all kinds of cancer care inquiries.  Breast prosthesis for patients, educational scholarships, financial aid, support for medication and scans, counselling and therapy and special paediatric care projects are some of the programmes implemented by the Trust.

Indira's sister, Dr. Lanka Jayasuriya Dissanayake, a pioneer of the Indira Cancer Trust  said, "We hear heartbreaking stories and especially about mothers who are mentally down because of hair loss as the children are scared of their new look and reject them. It is amazing to see so many donors giving away their hair, a gesture of true care for the patients."

Each month 12 wigs are given free of charge by theTrust and more with the help of sponsors.

461kg of hair and a total number of 7657 ponytails donated for the cause so far is a real sign that people truly care.