Letters to the Editor
View(s):

Bhante Dhammika has little knowledge of the history of the Theosophical Society

REPLY TO  BLIND FAITH IN THE THIRD EYE  

I was furious – no, outraged -  would be a better word to describe what I felt when reading Bhante Dhammika's  (BD) article on the best-selling book written over 60 years ago , titled ' The Third Eye.'

Those who believed it were soon told it was merely fiction and the author was found to be a charlatan who happened to be a British citizen who had led a fairly unremarkable life. This in no way detracted from the book sales apparently. His subsequent sequels also sold well I think though I did not read them.

However 'The Third Eye' was quite fascinating and as a teenager, I enjoyed it. Why BD chose to write on something that is so out of date I can't think. But what I DO find absolutely unacceptable are his comments on Madame Blavatsky and Theosophy.

I wonder if  BD really knows anything about the history of the Theosophical Society? He should be made aware that if not for that great Theosophist, Henry Olcott, sent to Sri Lanka by Madame Blavatsky and Annie Besant, Buddhism may not have even survived the foreign invasions and rule of (then) Ceylon.

Henry Olcott's name is revered in our island to this day and under his influence over 400 Buddhist/Theosophical schools came into existence. An outstanding example of this is Ananda College whose first Principal was Charles Leadbeater, a well known Theosophist and tutor to the great sage J. Krishnamurti when he was a boy and was being brought up by Annie Besant. Krishnamurti called Mrs Besant 'Mother' and looked upon her as such even after he disbanded the following Mrs. Besant had built up for him under the Theosophical Society.

While BD dismisses the Theosophical Society (TS) as "an untidy mixture of western occultism, Asian superstitions and a sprinkling of authentic Buddhism" it may interest him to know that many great minds belonged to the Theosophical Society and still do. The first Cabinet of India, including Jawaharlal  Nehru, were members of the TS or at least were very close to Annie Besant (at that time President of the TS) who had a great deal to do with the freedom movement of India. Some modern historians regard her as being pro-imperialist. She did not want India to leave the Commonwealth (she was British after all) which it ultimately did not although India IS a Republic.

But there is no doubt that the Theosophical movement  was a highly positive force at a historic time in countries like India and Sri Lanka. In fact one wonders if BD would have even been in Sri Lanka as a monk had not a great Theosophist come to the island and spearheaded a revival of Buddhism along with our own Anagarika Dharmapala who was himself a Theosophist I believe, or at least was close to Annie Besant and Olcott. In fact at one time Anagarika Dharmapala even wanted to live in Adayar where the Theosophical Headquarters is situated but eventually he settled down in  Shanthi Niketan, Tagore's school and haven.

Lobsang Rampa, the name taken by the author of 'The Third Eye", did give a sort of explanation for his deceit which is probably not accepted. He says his body was taken over by the spirit of a Lama and he was thus able to write such a book. Whether his body was thus occupied or he simply got to know a Lama from Tibet, the book is a fairly authentic account of the life of a young Lama. I ascertained this story  from  a Tibetan  gentleman himself whom I got to know personally.

At this point may I mention that I have been a Theosophist all my life albeit not a very practising one. But its beliefs are still mine. Here is one that has now been accepted.  I am a teacher of History and whenever I visited the Theosophical Society in India as a child with my highly erudite and educated parents, I would  naturally pick up these teachings although I learnt to keep my mouth shut in general unless talking to Theosophists themselves. It is only now that many beliefs are being accepted by educated people all over the world and BD's comments are certainly most untimely and he comes across as being ill-informed of the history of Sri Lankan education.

The third eye being 'opened' surgically is a strange addition. It is the Ajna Chakra in Hinduism which is 'opened ' by prolonged meditation and certain practices and not through surgery. Nonetheless, there is a new type of Literature called "FACTION' literature which combines fact and fiction and very often does talk of esoteric facts but which are unacceptable to many and are therefore couched as fiction. One of these writers is Dan Brown who talks of the architecture of the American Constitutional Buildings and of Sacred Geometry. It is factually correct but it is more acceptable as fiction, hence the term 'faction'.

Another such writer is the popular historical book author, Elizabeth Chadwick, who openly says she employs a reader of the Akashic records (another Theosophical belief that every world action is recorded). Her consultant is Alison King who has the ability to read these records and give Elizabeth Chadwick correct information on events that happened long ago.

In many of her latest books Chadwick openly mentions the Akashic records although she admits that she herself cannot access them. Nor can most people unless trained to do so, they say. I wish I could!

Religions are now openly accepting of the beliefs of other religions. In New York there is a group called 'Jo-Buds' who are students of Buddhism but have not given up their own faith. How we reconcile all this is surely a personal matter. Certainly we do not need comments like those made by BD which cause grave offence.

 Goolbai Gunasekara  Via email
---
Plans underway to enhance Kandy as a heritage city and tourist destination
This is regarding the letter  "What has happened to my dear Kandy" published on May 13, in the letters page of The Sunday Times, Plus, by T. S. A. de Silva from Dehiwala.
Currently a programme is being formulated– a "Greater Kandy Urban Plan" — which is funded by Japan International Cooperation Agency (JICA) with the Urban Development Authority, Central Provincial Office as the main counterpart agency. The JICA project team includes Japanese specialists and local experts and professionals in various disciplines.
The objective of this project is to enhance the value and attractiveness of Kandy as a historic and tourist destination by restoring its historic townscape.
The expected outputs of this initiative are,
1. To revise the urban development vision of the Greater Kandy Urban Plan
2. To formulate the detailed plan for the heritage area
3. To recommend the implementation including a strategic investment proposal for the Greater Kandy Urban Plan
The area for the revision of Urban development Vision includes 10 Divisional Secretariat areas coming under the Kandy District, namely, Thumpane, Poojapitiya, Akurana, Pathadumbara, Kundasale, Gangawata Korale, Harispaththuwa, Yatinuwara and Udunuwara with a population of 902,000 in 2012 and an area of approximately 600 sq..k.m administered by 13 local authorities.
The area for the detailed plan is designated as "Heritage Area" in the Greater Kandy Urban Plan, with four zones with an area of approximately 2sq.km.
Further details and the progress of the GKUP project can be obtained via the following links.
1. JICA GKUP Project office, Urban Development Authority (Central Provincial Office), 18, Keppetipola Rd, Kandy.
2. Email: kampsjica@gmail.com/ Facebook: https://www.facebook.com/GKUP.Kandy/
3. Tel: (+94) -81-792-5264
Director,
Central Province Office,
Urban Development Authority
---
Thank you for the most wonderful Mother's Day gift – my son's precious life
It was Vesak Poya. Colombo was decorated with lanterns and lamps of all hues. There was light everywhere except in the souls of a family who were seated at a leading hospital with palpitations of fear and dread. Darkness filled their hearts as their beloved husband, father and son had just been rushed to the CCU.
In came the Cardiologist who immediately sent the patient to the Operating Theatre. The angiogram graphically displayed the image of the main artery with a 99 per cent block and a large block in close proximity to the heart. According to the doctor, the patient had very limited time, therefore a bypass or open heart surgery  had to be ruled out. He went ahead and performed interventional surgery or angioplasty. Within 45 minutes the patient was wheeled back into the CCU with his heart functioning normally.
It was indeed miraculous! It is the total dedication and humaneness of cardiologists and physicians of Dr. Gotabahaya Ranasinghe's calibre that infuse light and hope into innumerable hearts.
On behalf of our whole family, permit me to express our overwhelming gratitude  to Dr Gotabhaya and also with the grace of God wish him a long life of delivering his exemplary service to people. As Sri Lankans we are extremely proud of you Sir and you have given me the most extraordinary gift for Mother's Day – my son's precious life.
Jamna Padmanaban  Colombo
---
Tuition business captured so well in following verse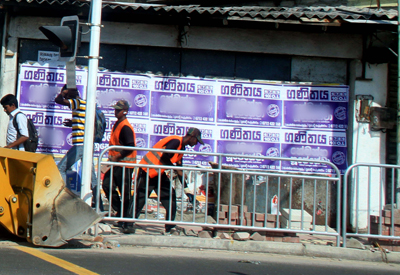 In response to J. W. Dewasiri's recent letter regarding tuition posters I am reminded of a famous baila composed and sung by our very own Desmond Fernando- if I remember right.
The first verse goes like this:
 Hai hai, salli kokka tuition master
All the lessons vikunawa gahana posters
College ekay ice pitin, garage ekay
class putting!
Kalu kada Mudalali nethar master!
There are many verses to this humorous song sung to a baila tune. One verse of this song says that the tuition master at first owned only a push cycle  but now he drives a Benz!
Perhaps it's true.
Mrs V.Y.D  Mount Lavinia
---
Noisiest place in the city
Recently I visited my elder brother who has been living at Ward Place, Colombo 7 for more than 30 years, in an apartment opposite the National Dental Institute, Colombo. This place is supposed to be a silent zone but it seemed as if it is the noisiest place in the city. The unbearable sound is caused by vehicles tooting their horns, particularly heavy vehicles including state and private buses.
Residents whose houses face the roadside cannot open their windows for fresh air and light. This state of affairs has been going on for the past three decades. The authorities concerned should take some action – the University Grants Commission which is also located here faces the same problem.
Who will bell the cat?
M. Macillamani  Kokuvil
---