Ambushed by time, behind the Blue Door
View(s):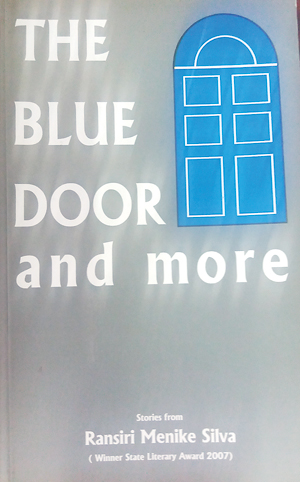 It was bound to happen at a family get-together of septuagenarians," thus begins Ransiri Menike Silva's collection of stories The Blue Door and More, setting the scene for fictionalised (and de-fictionalised!) play of symbols, motifs, allusions, and time-space dimensions. A careful reader could not ignore the taste and fragrance of family-driven events in these stories; yet, Menike Silva's Blue Door fiction also leaps out of the drawing rooms and makes crash-landings in attics, hospitals, crocodile-infested pools, and even in sacred spaces of religious worship.  In fact, The Blue Door and More could be viewed as a story collection that dashes open the 'Door' that prevents us from basking in the collective memories of humanity—pleasant or unpleasant—and offers 'More' possibilities for life and living. This collection features 15 stories, with (a needless!) author note that declares the intention of the stories—more about this later—and might offer those in search of 'lost time' an extra feed of oats.
Time occupies the centre of Menike Silva's fiction: 'presence of the past' is an event that has consciously or unconsciously invaded her texts. Take the story The Smell of Sawdust, where a septuagenarian narrator tells us how 'sawdust' attained dual identities in her life. She's part of a group of nostalgic memory-catchers who go in search of their childhood home—a visit that also forces our narrator to confront an unresolved event from the past. The house and its backdrop are not the same: time has disfigured her much-loved home. The attic, which used to be her childhood refuge from stress and 'reality,' still exists as a usable structure, but has changed beyond recognition. Yet, the 'feelings' and an 'event' associated with the attic live there like an ancient discarnate spirit. "I waited to go in last, I wished to spend more time in it than the others, to relive the memories of lying on the sawdust…reading, dreaming or weaving magical tales in my head." The sawdust, we are thus made to believe, is associated with creative activities—  dreaming, creating tales and reading. But, 'sawdust' also suffocates: in a previous time-space moment while a child absorbed herself in the fiction of gothic, the imagined 'realities' of the text and the factual 'realities' of her life become one. "I froze, fear knotting my stomach as I sat up on my haunches to face whatever 'thing' that was coming up to get me."
Now the totality of both events, best remembered as 'pain, soiled clothes and blood,' sticks to her like a large birthmark from a previous existence. Our narrator thus suffocates in 'sawdust' of the past in the newly renovated attic, reminding us that mental rashes inspired by sexual assaults are oblivious to the passage of time. The plot and the epiphany are in her feelings, her suffering and the timelessness of time—not elsewhere: Menike Silva has done the needful with carefully-constructed emotive language. Therefore, there is no need to instigate a sudden erasure of this negative memory, and offer the 'sawdust' victim an easy way out. A deep scar that survived the innocence of childhood, confidence of adulthood, 'wise saws' of middle age, and the unused wisdom of post-middle age need not disappear in such a hurry –a forced epiphany, probably, is not a good thing in serious fiction.
The Blue Door, the title story, is another play on the theme of time, this time on paused memories. We have a narrator who has a child-like desire to see the other side of a door ("What's going behind that door?")  whose "terrible shades of blue" only make her attraction to the door intense. Yet, she discovers that behind the 'blue door' is a world best left undiscovered. She is too late for such wisdom as parental conflicts and separation, forgiving and forgetting all pounce upon her forcing her to evacuate from the neighbourhood lock, stock and barrel.
Behind that actual blue door is another female who lives upon the same memories our narrator wishes to obliterate: one person's memory is another's cyanide. This is the tension in the tale, an issue Menike Silva ignores by allowing her main protagonist to exit from the story too fast—hasty exit from fictional space, perhaps, is not a good thing.
"The lay preacher sat down confident that his talk had gone well" thus begins one of the most powerful tales in the collection titled The Lay Preacher.  Our protagonist is a lay preacher by chance more than design: he is the quintessential retired public servant who takes on himself the task of putting the wrongs of the public sphere right—a task he could not achieve in his professional career. Menike Silva's subtle irony actually makes the character more lovable, and invokes compassion as we forgive his faults and watch his spiritual antics. He preaches, improvises, debates and defends his points of view specifically from unsavoury Buddhist scholars with academic and research credentials.
At the heart of our preacher's existential crisis is the fear of death itself—a stark reminder that he is yet to absorb the essence of the Buddha's teaching, which neutralizes death. His wife tends to vegetable plots, a pastime that brings her more profit than the spiritual endeavours of her husband. The loud early morning pirith from the temple irks him, yet, he has the answer…It is the spiritual imperfections that give life to this tale. At the same time, the beauty of this tale is untouched: Menike Silva leaves the man as he is at the end of the tale: "pausing briefly for dramatic effect he stepped sedately up to the mike…the Lay Preacher began to speak." It is the emptiness of his inner site of speech that moves us. Here is human folly marching on through time-space dimension of the urban utopia completely missing the last bus home.
Ransiri Menike Silva's book of stories is thus an inspirational volume that offers versatile fictional events. She had experimented with forced epiphanies—which is a difficult-to-correct issue with lots of fiction writers¬—which did upset my own grasp of her tales. At the same time, I do not expect her to declare a story as fiction/non-fiction, for I firmly believe that the boundaries between them are blurred—one only needs to read Menike Silva's supposedly 'non-fiction' tales in the collection to find out. Yet, I will not deny the immense reading pleasure the collection gave me in terms of its deep insights into what it means to be 'human' in time-space dimensions arrayed against our wishes.
Book facts
The Blue Door and More (Short Stories)- by Ransiri Menike Silva

Reviewed by: Lal Medawattegedara