University of Pera opens anatomy museum to the public
By L.B. Senaratne
View(s):
The Vice Chancellor of the University of Peradeniya Upul B.Dissanayake speaking at the opening of the anatomy museum at the Medical Faculty of the Peradeniya University invited the public and especially students to interact with the university.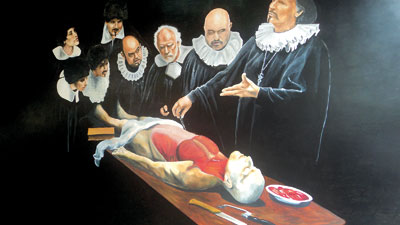 In an effort to interact with the public, the head of the university invited the public to use some of its facilities, via an invitation to students and the public to visit its newly opened 'Anatomy Musuem' at the Faculty of Medicine in Peradeniya.
In his opening address the Vice Chancellor said it was time the university was more open to the public, especially to students, who would then better understand the work that is being done within its magnificent buildings,
He suggested that a small fee be charged as a contribution toward the development of the museum and its facilities.
He said that other departments of the medical faculty too follow the lead given by the department of anatomy and open museums of their own, adding, it should be possible to inter-link the different museums via a web page which would benefit medical students and the entire medical profession.
Dr. (Mrs) Jayanpathy Dissanayake head of the Department of Anatomy said the setting up of the museum was the brainchild of the late professor Malkanthi Chandraskera who initiated the plan to set up the Anatomy Museum when she headed the department.
Referring to various aspects of the department's work, she mentioned that cadavers needed by other universities were sent from the Peradeniya faculty. She stressed that much more work had to be done to before the museum could be brought up to international standards.
Professor Sominanda also from the faculty of medicine, reminisced saying he remembered how the late Professor Malkanthi Chandraskeera opened a musuem fund account and made a prelimenary plan for the setting up of the museum with Mr. Marsukorala, who he said was in the audience.
He also spoke of the problems they had faced before the 'dream' was ultimately realised.
Professor Vajira Weerasinghe , Dean of the Faclty unveiled a plaque to mark the occassion.