Flood toll reveals sad fate of homeless
By Shaadya Ismail
Farming, fishing livelihoods in tatters
View(s):
As the floodwaters recede, some 157 families face a bleak future, with some homes lost to the waters and almost 7,000 other homes damaged across 21 districts. The Disaster Management Centre (DMC) said initial compensation payments of Rs.10,000 had been distributed, and the remaining amount would be paid once estimates were received from each district.
"Damage estimates are currently being carried out in each district, and we expect to receive the numbers by next week," DMC Deputy Director Pradeep Kodippili said. He said wells in the affected regions were being cleaned up to ensure people had safe drinking water.
While many families moved out of relief camps and returned home during the week after the floods receded, the damage caused to their means of livelihood and industries was immense. The floods have left 35,391 people facing hardship.
Two deaths and four incidents of injury were reported from the Ratnapura District, where 585 houses were damaged, with 19 of them in ruins. Damage was also caused to 191 roadways, 6 bridges, 16 irrigation systems and 3 schools. Almost 850 wells were classified as unhygienic and are being treated with chlorine by army personnel.
"During their stay in relief camps, people were provided with cooked food and, when they left, dry rations sufficient for a week were distributed," Ratnapura District Secretary, Malani Lokupothagama said.
In Puttalam, the three relief camps set up by the Puttalam District Secretariat harbour 95 people from 26 families but District Secretary N.H.M. Chitrananda said 5,800 families were in need following the floods. Some 865 houses were partly damaged while 55 families were left without any kind of home. Mr. Chitrananda said recovery work had begun. "Waters have receded from roadways, areas are being cleared, and dry rations and compensation have been distributed to families," he said. Many industries in the Puttalam District are in chaos. Prawn farmers have been affected as prawns have been washed out of the lagoon into the sea.
The pottery industry has been destroyed completely, depriving the people of Mundalama of their livelihood. Compensation will be awarded and raw materials provided to revive the industry. Livestock farmers have lost property with many animals missing or drowned. Mr. Chitrananda said total damage is estimated at Rs.479 million, of which Rs. 10 million is from damaged roads and bridges.
Kalutara District Secretary U.D.C. Jayalal said the floods have left 6,147 in hardship. At present, the Secretariat is running two relief camps housing 33 people. The floods damaged 327 houses, of which 11 houses were completely damaged. Agriculture in the district was affected very badly as 1,100 acres of paddy land was destroyed.
The current damage estimate of Rs.23.5 million is expected to increase.
In Kaduwela, two homes were buried by landslides and 1,244 others partly damaged by floods – many of these were illegal constructions, Divisional Secretary A.D.Y. Anandani said. The Secretariat has sheltered 5,062 people in relief camps over the past week. Kaduwela faces a crisis over safe drinking water and the Red Cross has been distributing water.
In the Gampaha District, 4 people died while 66,068 people from 16,232 families were affected, with 20 houses being partially damaged, and 9 houses completely damaged. The deaths were reported from Gampaha, Attanagalla, Divulapitiya and Mahara areas. Officials said the affected families had been paid Rs.15,000 as immediate relief and a further Rs.85,000 would be paid later. They were also provided food relief and dry rations. They said the affected people were also being provided with drinking water in bowsers and this would continue until the wells in the areas were cleaned and ready for use. The Attanagalla Divisional Secretariat has set up 27 relief camps housing 680 people. Wells are being treated with chlorine. Dry rations have been distributed and 20 households have received the initial compensation payment of Rs.10,000, with 35 households to be paid next week.
Seven Divisions in the Galle District experienced flooding, causing hardship to 94 families. Dry rations and compensation payments were being given out. "People are gradually settling back to their lives although the process is strenuous as they have to rebuild what was destroyed," Galle District Secretary, Pradeep Ratnayake said.
Damaging wind warning for coasts
Strong winds in Mullaitivu, Jaffna, Moneragala, Hambantota, Matara and Polonnaruwa damaged almost 200 homes, and warnings have been issued for more of the same conditions in coastal areas.

The Disaster Management Centre (DMC) said 656 people have suffered losses as a result of the damaging winds.

Meteorological Department Forecasting Director Anusha Warnasooriya said coastal areas would be hit by winds stronger than the 50-60 kph winds that normally accompany the south-west monsoon. "The island will experience strong winds as the Southwest Monsoon has commenced," she said.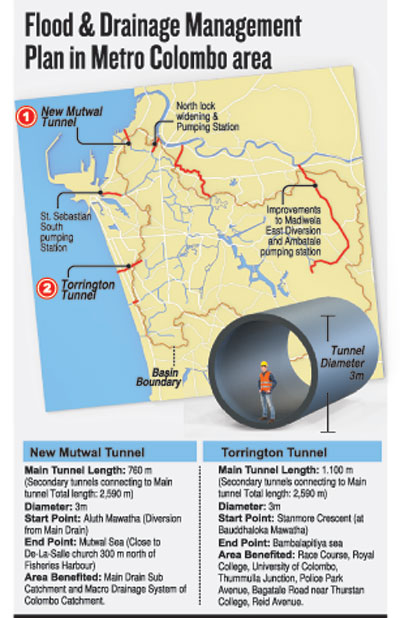 Twin tunnels to clear Colombo floods
A scheme to mitigate floods in Colombo will commence with the aid of the World Bank and the China Petroleum Pipeline Engineering Corporation.

The project budget is USD321mn, of which two-thirds will be provided by the World Bank. The Ministry of Megapolis and Western Development will invest Rs.5.8mn. The project's focus will be the construction, by 2020, of 2 new tunnels – the Torrington Tunnel and the New Mutwal Tunnel – using micro-tunnelling technology, which uses remote-controlled boring machinery.

The Torrington Tunnel will be 1,100m long with an internal diameter of 3m and will run 5-6m underground along Bauddhaloka Mawatha, crossing the Thummulla Junction, Galle Road, Marine Drive and Southern Coastal Railway to the sea.

The New Mutwal Tunnel will be 750m long, also with an internal diameter of 3m, and will run along the Eli House Area, crossing Aluth Mawatha and St Andrews Road at Mutwal to the sea at a depth of 5-19m underground, the changing depth caused by variations in the ground surface.

A total of 63 families whose homes had to be demolished for the project have been given new houses and compensation will be paid to families whose homes lie above the underground tunnels.

The Ministry of Megapolis and Western Development said work has commenced on a pumping station at Nagalan Veediya and a pumping station at Ambatale is expected to start working later this year. Work on the second phase of the Kittampahuwa Ela in Kolonnawa, used to mitigate floods, will commence this year.