Exploring gender on canvas
By Hiranyada Dewasiri
'Genderless Jungle' an exhibition by a group of young artists on June 9 and 10
View(s):
Society's general norm that girls and boys should be and behave in distinctly different ways from each other is a basic explanation of gender, said Kapila Rasanayake, the curator of 'Genderless Jungle', an exhibition of Contemporary Art for Gender Equality. He invites the public to engage with the work of the artists on June 9 and 10 (Saturday and Sunday), from 10 a.m to 9 p.m. at the Faculty of Visual Arts, University of Visual and Performance Art, Horton Place, Colombo 7. The free event and non – profit initiative will include the work of 12 artists.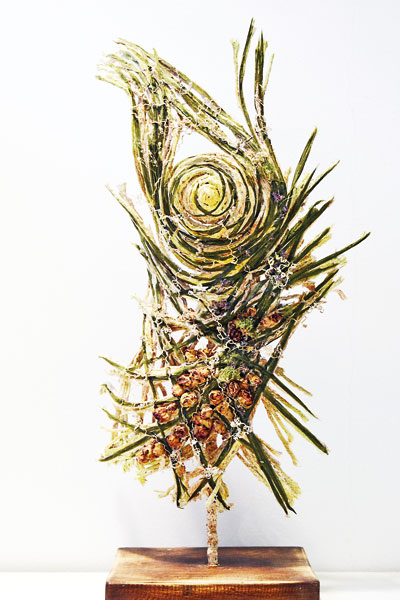 Kapila, a feminist and gender activist, believes that art is the best medium to discuss social issues. Kapila is the founder of Voices of Humans, an organisation promoting gender equality that was founded in 2017. He also represented Sri Lanka at the 62nd session of the United Nations Commission on the Status of Women in New York.
It is generally considered that boys shouldn't wear pink or do things that are considered soft and since childhood, Kapila wanted to free himself from such constraints. In his journey to find freedom from these barriers that patriarchal society has imposed on men, he became a gender activist. While studying sociology in university, he was also exposed to the many problems that women face and became more passionate about these issues that society tends to disregard.
Women do not have equity in the society we live in and are often underrepresented. Women are subjected to gender-based violence and sexual harassment and are often the first to be blamed. To Kapila, these are characteristics of a patriarchal society.
A few weeks ago, a video by Kapila went viral on social media. The video shows Kapila having a conversation with a group of young boys from Madampe about the causes of rape– the boys' answers stunned many. Inappropriate dress, travelling after dark, travelling alone and "asking for it", were some of the responses. To Kapila it was not surprising and he didn't think it was these boys' fault. "These are the same responses I received in a workshop for a girls' school in Colombo," he said.
"A generation or two ago, if we mentioned manioc and coconut sambol to kids, their mouths would probably water, but if you say the same thing to a child today, the child wouldn't react with that same eagerness, because their learning has made them associate different flavours with taste. Approaches on gender could also be like that," explained Kapila. He stressed the need to use new ways to engage with the youth when it came to gender-related issues.
'Genderless Jungle' is a bigger project and the exhibition will be followed by monthly talk shows and gender workshops, said the curator. "We should promote the idea of being human instead of gender which is a man-made distinction. The vegetation in a jungle is not planted by humans. They are creations of the jungle. In a jungle, we are free from these societal barriers," he said, explaining the name of his initiative.
Asela Abeywardene, a contributing artist, lives in Dubai. "My art is not usually a statement but a provocative thought. As a female artist, my work explores womanhood, especially in the South Asian cultural context," said Asela, a painter and sculptor. By depicting strong historical female characters like Kuveni and Draupadi, she feels she could relate a story that resonates in the current context.
Two foreign artists -Gbemisola Bamiduro from Nigeria and Zalfa Stevenson from Lebanon will also take part in 'Genderless Jungle'. They will be joined by local artists Goabi Ramanan, Jessica Ferrari, Joshua Heby, Juliet Rajasingham, Methuna Rajah, Rifadha Jawher, Sahani Dikkumbura, Salome De Silva and Thushara Kalubowila.
With musical programmes, theatre performances and poetry readings towards the evening on both days, the programme promises much stimulation.