'Boyzone final tour 2018'- Is Sri Lanka on their minds?
View(s):

Keith Duffy, Ronan Keating, Mikey Graham and Shane Lynch, more popularly known as 'Boyzone' will be celebrating their Silver jubilee this year.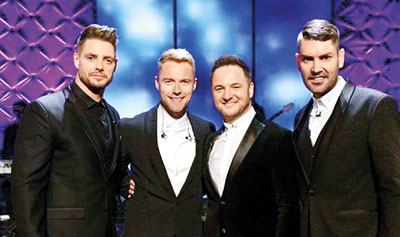 Irish boy band, Boyzone have sent fans into overdrive after announcing their plans to release new music and tour as part of their 25th anniversary celebrations.
The pop group confirmed widespread speculation that something exciting was in the works by sharing their big news on social media, saying the whole band is "incredibly proud" of what they've been secretly planning.
However, they have now confirmed that their next album, dedicated to the memory of late member Stephen Gately, will be their last and their 25th anniversary tour will be their farewell tour.
Despite the fact they've all been pursuing solo projects from car dealerships to soap roles to singing for many years, Boyzone have never permanently split up.
The new dates across the UK this summer starts from June 29th in Cartmel, Lancashire. The tour will continue to London, York, Edinburgh and of course several gigs in homeland, Ireland. This is followed by hitting Asia before returning to Europe.
Although exact details have yet to be announced, the band will be in action in Singapore on August 21, at Prambanan in Jogjakarta, Indonesia on August 19 and in KL, Malaysia. However, apart from the confirmed touring dates, there will be one tentative date is already being planned for the Asian tour.
Is Sri Lanka on their minds?
Sri Lankan fans have to keep their fingers across for the latest news from the band. According to the news coming from Singapore, the Colombo Concert could be a reality before August 21. The Asian Leg of the Boyzone 25th Anniversary Tour starts on the 16th of August. However no mention of a Venue or Country is given for that date.
Ronan took to Instagram last Monday night to confirm the news for fans.
'The news is out and yes, it's true… our new album will be the last for Boyzone,' he wrote.  'We've had twenty-five amazing years and we promise you that this will be our biggest and best year yet. Watch this space… #BZ25'
The group, which has racked up five No. 1 albums and sold more than 25 million records worldwide, was hugely popular in the 1990s and is behind smash hits such as 'Picture Of You and Baby', 'Can I Hold You', 'Working My Way Back to You', 'Love Me for a Reason', 'Key to My Life', 'So Good', 'Coming Home Now', 'A Different Beat', 'No Matter What' etc.
They have plans to release a new album this year.