Will the gains in exports be offset by higher imports this year too?
View(s):

Despite an impressive export growth last year, the trade deficit widened owing to an increase in imports. Will higher imports this year too offset the increase in exports to result in a further expansion in the trade deficit?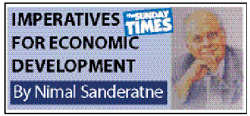 The expectation that the export growth since March 2017 would reduce last year's trade deficit was not realized as imports increased more than exports. Although exports increased by 10.2 percent in 2017, the trade deficit expanded from the previous year's US$ 8.87 billion to reach as much as US$ 9.62 billion in 2017.
The expectation that the trade deficit would be reduced in 2017 was owing to an uptrend in exports from March 2017. The export growth of 10.2 percent last year was mainly due to the resumption of the GSP plus status by European Union (EU) countries that led to an increase in manufactured exports, mostly garments, and sea food.
However the expectation that the trade deficit would be reduced was not realized owing to the increase in imports by US$ 1.8 billion that exceeded the export growth of US$ 1 billion.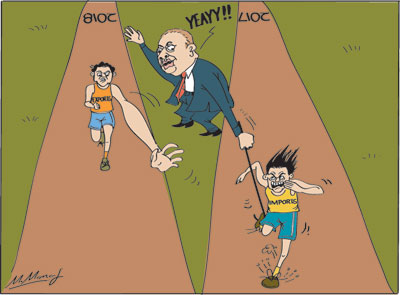 Reasons
There were of course extenuating reasons for the increase in imports last year. The severe drought in 2018 reduced food production that necessitated increased imports of food, especially rice and wheat. The low rainfall also meant lesser hydro electricity generation that necessitated higher fuel imports for thermal generation. In addition international oil prices also increased. As a result of these food imports increased by 14 percent and fuel imports increased by 37 percent. These increased imports wiped out the gains in export earnings. In fact import expenditure recorded the highest ever value of US$ 21 billion in 2017.
First two months
Although exports increased in the first two months of this year by 8.6 percent, imports increased by 17.1 percent to completely offset the gains in export growth. While exports increased by US$ 148 million, imports increased by US$ 582 million. This resulted in a trade deficit of US$ 2111 million for the first two months of this year. If the trade deficit in the first two months continues this year's trade deficit would be even higher than that of last year and would probably exceed US$ 10 billion.
As the first two month's trade performance indicates, this trend of an increasing trade deficit, in spite of export growth, is continuing into 2018. Will this year's trade performance be similar with the trade deficit expanding further, despite a continued growth in exports owing to an increase in imports that is larger than the growth in exports? To avoid such an increase in the trade deficit, either imports should be contained or exports should gain further momentum.
Expectation
There are reasons to think that the trade deficit could be reduced in the next nine months. On the import side, several imports that increased last year are expected to decline this year. This includes rice imports that are expected to be negligible owing to the bumper paddy harvest in Maha 2018.
The imposition of a 15 percent tax on gold imports in April is expected to reduce gold imports. While fuel imports are expected to be reduced mainly due to lesser needs for thermal generation of electricity, this gain could be wiped out by higher international prices. Furthermore fuel consumption for transport is unlikely to be reduced due to the inelasticity of demand (demand not decreasing much due to the increase in prices) for oil.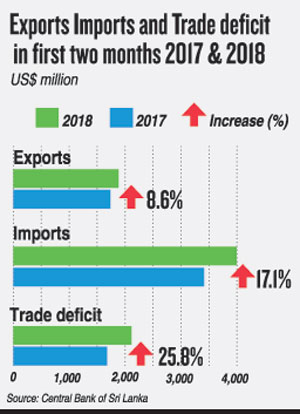 Exports
The prospect of a continuing growth in exports is most likely. In the first two months itself exports grew by over 5 percent to US$ 1.9 billion. Tea prices are likely to be high and tea export volumes too may increase owing to a higher exportable surplus. Garments exports that have been increasing are expected to increase. The growth in sea food export is also expected to increase in the coming months.
Trade balance
These expected developments imply that the containment of imports is vital to achieve a better trade performance. Further tariff, fiscal and monetary measures are needed to achieve this. However there are reasons to think that austerity measures are unlikely owing to political compulsions and there may be easing of imports to gain popularity. In making decisions the government must take into consideration the balance of payments implications of increasing import demand.
Summing up
Incurring of massive trade deficits is unsustainable. It is the main cause for the country's weak balance of payments. As we have pointed out in earlier columns, a trade surplus is vital to strengthen the balance of payments and enhance the reserves as the large debt repayment of US$ 4.2 billion next year would strain the external finances.
Since the trade deficit is caused by high imports, fiscal and monetary policies must ensure a curtailment of imports. Reduction of fuel imports that cost US$ 3.4 billion last year is essential to make a dent on imports. Vehicle imports that have increased due to tariff and government policies must be reviewed to reduce import expenditure on these.
Monetary policies require to constrain aggregate demand so as to reduce import consumption. The government must be serious about improving the trade balance. Austerity measures are crucial to avoid a large trade deficit and balance of payments difficulties.
The trade deficit could also be reduced if exports increase by a much higher amount. Both manufactured exports such as garments, ceramics and rubber goods would require to increase substantially. The prospect of agricultural exports increasing is mostly dependent on tea prices increasing and higher output of tea.
As the country has a high propensity to import with most imports being essential, the long term strategy to reduce the trade deficit is a significant increase in exports by increasing the country's exportable surplus and diversification of export markets. These require a number of reforms and appropriate policies.
If exports are not increased significantly, the country will continue to face large trade deficits.