A sad look back
View(s):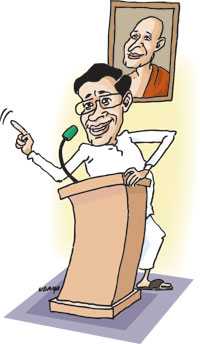 Maduluwave Sobhitha hamuduruwaney,
I thought I must write to you even though you have departed this world. Your untimely demise left those of us in Paradise in despair. While we are sure you must be in a better place than Paradise, I feel it is my duty to let you know of the many words spoken by those who still wish to invoke your name.
You will recall the great service you did in the last year of your life in Paradise. It is no exaggeration to say that it was you who single-handedly pursued the idea of a common candidate. That was a time when King Mahinda was considered invincible and no one dared to cross his – or his brothers' – path.
Thanks to your efforts, we ousted King Mahinda and installed King Maithri on our throne. Little did we know at that time what we were letting ourselves in for. We had a taste of that this week, at an event held to mark your birthday. There, King Maithri lashed out at everyone, 'madu waligey' style.
At the time you – and a few others – chose King Maithri as the 'common' candidate, we thought he was an uncommon man: a man who had a clean track record despite decades in politics, a man who was simple in his ways, a man who was not greedy for power, and a man who would keep his promises.
Yet, hearing King Maithri speak out at your commemoration last week, hamuduruwaney, you wonder whether it is the same person you – and more than six million others in Paradise – chose to be their new King. What's more, he still claims he is following in the path you charted for 'yahapaalanaya'!
King Maithri asked whether it was your idea, hamuduruwaney, to rob the Central Bank. Ravi was in the audience in the front row and I am not sure how comfortable he was, listening to that. Getting to the bottom of the bond scam is one thing that King Maithri did right and we do admire him for that.
However, because King Maithri asked whether it was your idea to rob the Central Bank, hamuduruwaney, we have a few questions to ask him as he seemed to suggest that he is still following your principles. Had you been with us, I am sure you would have asked those questions too.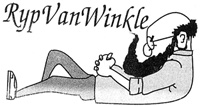 For example, was it your idea, hamuduruwaney, to retain the Executive Presidency and for King Maithri to run for that office again? If my memory serves me right, quite the opposite was true: candidate Maithri promised to abolish that office and promised never to run for that job ever again.
After he became King Maithri, he solemnly pledged to keep that promise, not once but thrice. He did so on the day that he took his oaths, then he repeated those words at the Dalada Maligawa a few days later and said so again standing beside your mortal remains at your funeral, hamuduruwaney.
King Maithri then tells us that the 'one hundred day programme' that was promised was a stupid plan and that he doesn't know whose idea it was. Well, it takes pride of place in his manifesto. So, it looks like he hasn't read his own manifesto – and that is not worthy of a grama sevaka, let alone a President!
Hamuduruwaney, it was not your idea that King Maithri should run again for the top job, was it? Surely, it was also not your idea that he shouldn't be retiring from politics in two years' time. And I know you didn't want him to write to the Supreme Court asking to stay for six years instead of five!
King Maithri is now also trying to justify not dissolving Parliament soon after his election, saying constitutional changes were possible only because of that. What he is not saying is that, had he dissolved Parliament sooner, the Greens would have probably got a comfortable majority!
It was also not your idea, hamuduruwaney, to get candidates who were sent home by the people back in to Parliament through the back door called the 'National List'. You were with us then and you let your displeasure be known at the time, but King Maithri hardly took any notice, did he?
King Maithri is angry because events in Paradise are being compared to Malaysia, where Mahathir cracked down hard on the previous corrupt regime. While King Maithri set up a commission to probe the big bank bond deal, he has done nothing like that to probe other deals like the 'MIG' deal, has he?
King Maithri is also complaining now – many years later – that helicopters were given to defeated King Mahinda by the Green Man to travel to Medamulana. Well, he was the boss, so he could have stopped it if he wanted to, although I don't see anything wrong in allowing King Mahinda to leave with dignity!
So, hamuduruwaney, I think your dream of abolishing the Executive Presidency will remain just that – a dream. The rathu sahodarayas are sponsoring a motion for this but King Maithri and King Mahinda both oppose it, and even if the Green Man supports it, it will be because he feels he can't win – yet again!
Awasarai, hamuduruwaney,
Punchi Putha
PS – There is no doubt that your untimely departure was our nation's loss, but dare I say this? It maybe best that you are no more with us. Had you been with us still, you would have been so disappointed with King Maithri, the Green Man and the rest for promising so much – and delivering so little!