Colombo to host Opening Round in March
H20 Racing International Aquabike Championship 2019
View(s):
The Lanka Powerboat Association (LPA) has successfully won the rights to host the opening round of the H20 Racing International Aquabike Championship from March 22-24, 2019. For the first time ever, Sri Lanka will enter a team for this event. The LPA will run an International Training Course in June to prepare Trainers, Racers and Officials for the development of Aquabike Racing in Sri Lanka, and to prepare for this event.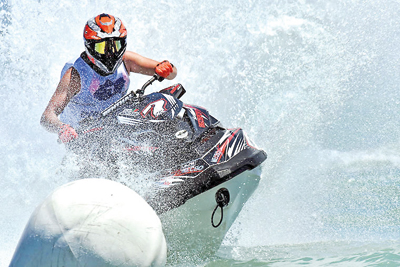 The UIM-ABP Aquabike World Championship is one of the most acclaimed and prestigious international series promoting personal watercraft in a competitive racing environment, and one of the fastest, demanding, spectacular and entertaining sports on water.
Each Round of the Aquabike World Championship is 4 days of breathtaking adrenalin-fuelled non-stop action, with improbable feats of artistry and acrobatics.
The opening round in Colombo in March 2019 will be followed by races in Europe and China, and the Championship finishing in the United Arab Emirates.
All riders must complete the UIM Training course, in order to race. The course consists of both theoretical and practical modules and will be taught by a qualified International UIM Training Commissioner and Instructor. The course will take a minimum of 4 days to complete, depending on the riders skill level. Once successfully completed, the UIM commissioner will then sign off the pupil as Ready to Race, with an international race licence, as UIM and LPA Ambassadors to promote and train jet skiing in Sri Lanka.
The training course takes place at Amagi Aria Hotel in Negombo from June 16. An international race for the newly trained riders will be conducted on June 23, followed by a family 'Introduction to Racing' day on June 24.