Minerals of many shades and designs
View(s):

Local fashionistas will soon see Indira de Silva's new range of fashion jewellery aptly branded 'Mineral' when she holds a one day exhibition at the Cedar Room, Cinnamon Grand, on June 9.

Created with different natural elements and artistically designed, the talented designer needs no introduction to the fashion conscious going by her past success.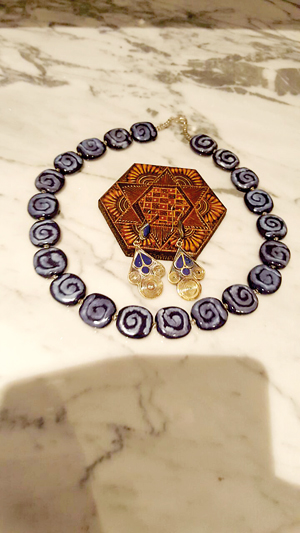 Her pieces all handcrafted and hand-woven, each piece made of a different metal can be considered a fashion statement or a conversation piece as each is unique.  Pendants come in different shapes and sizes, in beaten metals that are beautifully put together. Besides the pieces made with copper, other designs come in brass, or, have an African influence, a combination of leather braids, shells and beads –unusual to say the least! More recently she has created jewellery to match batik fabric, adding to her range.
This year she has created a new range which she calls "copper woven jewellery" made with a new technique. The copper doesn't tarnish, she says. What you see are intricate designs that come in three colours, rose gold, a more orangey colour and a dark brown copper which she says blends well with the Sri Lankan complexion. More importantly, they are affordable and stylish.
Her jewellery also has semi-precious stones embedded in them.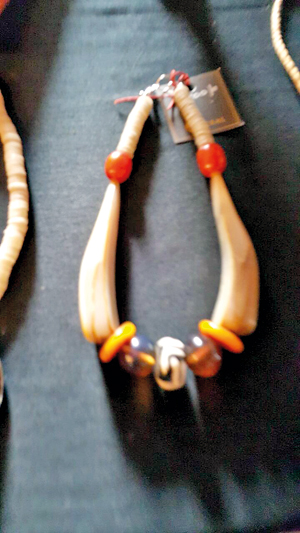 Some are made with jasper stones, others with natural jade and pearls. Some have been turned out of wood and plants that have aged. Her creative fingers have blessed the modern range of jewellery with mother of pearls and South Sea pearls set in silver and white gold plated.
A selection of pearl necklaces and pendants that would suit all ages will be the highlight of this exhibition. 'Baroque' pearls are odd shaped pearls also referred to as organic gems which she loves to work with.
Rare bead bracelets and copper bracelets, choker style necklaces with pendants, rings, handbags and shawls are a first too for her at this exhibition.
Indira takes pride in making individual pieces for clients, taking into consideration the personality of the customer.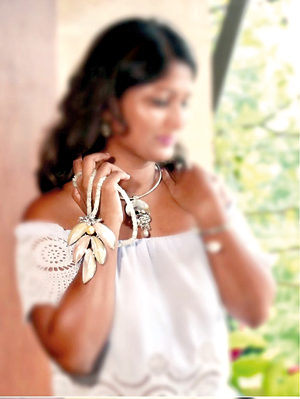 As an aspiring air hostess flying the national carrier Indira travelled widely and it was during her overseas travels that she took an interest in jewellery, realizing the importance of how it enhanced a woman's look! Her career progressed to being a sales person at the Hilton Colombo. Marriage followed and she travelled the world settling down in Indonesia with her husband. With her two sons now having left the nest, she realized she had more time to focus once again on her dream – creating her own jewellery collection.
Today, her clientele is wide and varied.She has held exhibitions in Indonesia and Sri Lanka, and is frequently contacted to make personalized jewellery for her clientele built over the years. Her home-base Indonesia has played a major role and strong influence in her creative thinking as seen in her finished products.