LC Cares have a day of right Royal fun
View(s):

As the British public was preparing to celebrate Prince Harry and Meghan Markle's wedding on Saturday, May 19, LC Cares kicked off the celebrations with a Royal Wedding themed monthly fellowship on Wednesday, May 16 at Ladies' College.

As part and parcel of any royal event is a good old fashioned Street Party, the volunteers of LC Cares decorated the OGA room  with red, white and blue British bunting, flags, table décor and a  giant cutout of the couple.  A large screen showed clippings from previous royal weddings interspersed with footage of the young couple while traditional songs were played in the background.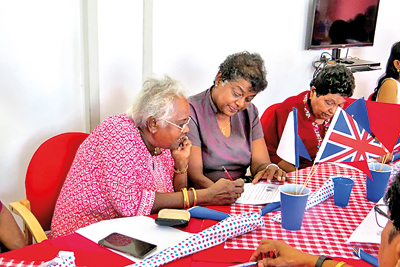 Competitions saw the guests making hats to wear to the royal wedding along with a group quiz based on royal trivia. Traditional British fare was served from the ginger beer to the Ploughman's Platter, pies and bangers and mash with onion gravy. And a summery dessert based on the great British pudding the Eton Mess was served along with a rainbow cake.  "It was an enjoyable morning. We liked the quiz because it was both fun and informative. Enjoyed the pub food, specially the pickles" said one senior member.
LC Cares which comes under the Ladies' College Old Girls' Association Trust Fund is a project for old girls by old girls. It began when a group of old girls came together over four years ago to volunteer their time and services to assist old girls and retired teachers of Ladies' College by offering assistance, making house calls and hospital visits.
A monthly fellowship is held every third Wednesday where old girls and teachers have an opportunity to come together to meet, chat, enjoy some games and lunch. The lunches often home cooked and sponsored by old girls or batches of old girls usually have specially chosen themes. In addition to the monthly fellowship special fellowships are also held and the members are looking forward to their next event, a day trip to Negombo in June of this year.
Relationships you build in school last forever and as they say at Ladies' College 'One Family Unbroken. …' . "Thank you to the LC Cares team for all the trouble taken. It was so well organized.  I appreciate very much that as young people you care for oldies like us. God bless you all," said an old girl Sriyanee Gooneratne.
"Love and care shown to us makes us feel wanted. Most of us are single lonely people hence we enjoy the fun and laughter shared together. The young LCites have added colour to our lives," said  Lalitha Rajapakse while an enthusiastic Kamala Fernando commented that ""It was fun, fantastic, fabulous."