Appreciations
View(s):

He was truly a people's person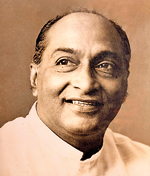 DHARMASENA ATTYGALLE
He had it all- charisma, wit, unmistakable sense of humour and a large heart. My grandfather, our aatha embraced life with such gusto that he lived each moment to the fullest. The open verandah of our ancestral home in the rustic setting of Madapatha still mourns him. His home was rendered his character- simple and open. It is silent today, sans meetings of all kinds- political, social and much more.
While those sought a piece of his mind or his healing touch in exchange for only a bulathhurulla, I watched him, the little girl I was, seated on the short wall skirting his open public area, in wonderment, of the electrifying effect he had on people from all walks of life. Anybody who met him once would remember him for a lifetime.A man of style, who would not compromise quality, aatha was impeccably groomed, refined in taste.
His love for people was his hallmark. An arm around anybody's shoulder would come spontaneously to him, even after his untainted political career. The sea of people who joined us to see him going on his final journey, those who lovingly captured his life in the printed word, mourning his departure even at a time he had given up all offices – political and diplomatic, spoke for the place he had in people's hearts.
Winning the Kesbewa electorate with a mandate still recalled by many as an index of his popularity as a true 'people's man,' he lobbied for the betterment of 'his people'. His devotion to the common man transcended party politics or social standing. He gave a much needed facelift to the Piliyandala town, spearheading scores of social welfare schemes including the improvement of infrastructure and acquisition of lands for schools, hospitals and social welfare causes which continue to serve the people even today. Like many of his forefathers, my grandfather gifted generously from his ancestral properties to larger causes of society.
A descendant of the illustrious Attygalle clan of physicians, aatha was blessed with the 'healing touch'. In keeping with the family legacy, he took pains to revive ayurveda in his capacity as the Minister of Indigenous Medicine of the Jayewardene regime, the first to hold this seat. For him it was a labour of love to see the Department of Ayurveda flourish.
As a grandfather, aatha was a revolutionary. Defying strict meal times, he would allow malli and I to sip off his cup of midday inguru plain tea and feast on roasted cashew! Yet it was he again who insisted on lunuwila, thebu kola and heenbovitiya.He would not hear of cotton inside our baby pillows. Instead they were dried-jasmine buds stuffed under his careful eye. He added rathmal, weniwelgeta and kohomba to our daily baths as young children. The grand old four poster he shared with athamma was made our play-house. He pretended not to spot us under it, scheming pranks! Instead he fuelled our rebellious spirits. He was amused by a flooded drawing room with drenched teddy bears given a bath right in the middle of it. An imaginary 'war-front' of malli's with sand-filled glass bottles scattered and toy guns booming at the backyard only made him chuckle!
Aatha enabled his grandchildren a window to adult life, way before they tasted the real trials of it. He believed that every political discussion or social gathering was a place for us. Ignorant to what was exchanged, we simply clung to him, wherever he took us, knowing little, this was to be the first lessons of life- the beginning of our informal education.
A charismatic man with a heart of gold and a beautiful smile, you left us a legacy not to indulge in but to serve the world. You left us in a flash, leaving behind only beautiful memories, enabling us to relive your eventful life through Frank Sinatra's lines: I've lived a life that's full, I've travelled each and every highway. But more, much more than this I did it my way…
Randima Attygalle (Granddaughter)
---
Remembering a wonderful mother, teacher and human being
 Diamentina Mendis
It's been two years since the loss of my beloved mother. The fundamental truth of life is suffering, dukka. However, the nostalgia is real when one thinks about the loss of parents. Even these memories, which fade with time is nothing but dukka. Recently many good friends, reminded me of our growing up days in Galle. They paid tribute to my mother, whom they loved very much. What was instilled in their minds was the simple genuine person, that she was.
They reminded me of how we were nurtured with self-discipline and self-respect by our parents. Indeed, when we were growing up, my mother reminded us all the time that if you fill your mind with garbage, it will remain there in your subconscious, thus she insisted that we seek the right things in life. My father always wanted us to think of what was morally correct, and all that was good.
Following her days in Peradeniya my mother become a teacher. She had passed the university entrance from Richmond College. After graduation, she first taught at Sri Medankara Vidyalaya, and from there had a long beautiful stint at Sangamitta Balika Vidyalaya, Galle. She always claimed she owed much to her father–from teaching her the importance of beautiful handwriting to learning maths, languages, literary skills coupled with aesthetic leanings, and then to become the teacher she was after doing Geography Special. She always fondly  recalled her Seenigama and Peradeniya days and became an active member of the Peradeniya Alumni Association.
She was a gifted teacher, a much-loved principal and most of all, a noble person, who always considered others above herself. She used to get very excited about her pupils' progress. She was one of a kind geography teacher, capable of making enthralling mind pictures of various places and instilling in her students the importance of  checking the accuracy of these scenes when  they encountered them in reality whether it was the Knuckles Range, the  Grand Canyon or the Great Barrier Reef.
She wrote many newspaper articles and books. Her book based on a series of newspaper articles, 'Spring has Sprung' was an absolute treat to any reader. Instead of filling our home with material things, our parents used to fill it with books.
She was never into the ritual trappings of religion  but believed firmly in "dhammo bawe rakkathi dhamma chari" and giving to others was part of her very being. She was not envious about anything and instilled in us that food not shared had no real taste; so when growing up we could not even have a small slab of chocolate without sharing it with the rest of the family.
She took everyone into her confidence and treated them as she liked to be treated. During our formative days, even though my father was very busy with his law practice, my mother would takes us to spend many happy evenings on the ramparts or to a good restaurant. We never missed a good drama, or a musical evening in Galle.
It is no exaggeration if I say that she was free from everyday stress, satisfied with the simple things in life. Most importantly, my parents had a great lifelong partnership.
She never did anything to hurt anyone, nor bore malice or illwill towards anynone. She lived a happy life with no worries until the fall of my father, which was equivalent to the sky falling on us.
The greatest loss was to our children who never got the opportunity of enjoying the company of their wonderful grandparents.
Eventually she fell victim to Parkinsons.
Over time, I have learnt to appreciate more the legacy of my parents. I am constantly reminded by many, that my parents were very good people and their reference to them as 'honda minissu' echoes  in my mind all the time.
Chinthaka Mendis
---
Manie, my role model
Manel Wickremesinghe (Sivagurunathan)
It's almost two months since we lost you
And you're so much in my thoughts
A phone call, a warm embrace, a kind word, a gentle ear
You were always more than a cousin to me, a sister, a loving friend.
You were my hero
As I grew from a child, a teenager to a woman
You were the example I aspired to be
A testament of hard work and success.
You were my tower of strength
In my darkest hour
Kneeling at the foot of Jesus, praying with unwavering faith
You were there to hold my hand through it all.
You were there in my sorrow
You were there in my joy
A radiant smile, a gentle hug
Your presence is all I needed.
You left so suddenly
In a flash, you were gone
But, I still seem to wait for your call
Your unmistakable voice on the other end.
On your birthday, I want you to know
You are remembered in a very special way
For the wonderful sister you were to me
Your memory, dearest Manie, will live in my heart forever.
Sheilagh Senanayake
---