Uni students taking the joy of education to a small community
By Hiranyada Dewasiri
View(s):
Early on a Sunday morning, seven-year-old Kasun was sweeping the small community hall, with a broom twice as tall as he was. This is where a group of volunteers from the Education Renaissance Programme will have their weekly learning sessions for Kasun and his friends of the slum community in Mihindu Mawatha, Veyangoda.
The Education Renaissance Programme is a registered non-profit volunteer organization launched in 2013. With around 10 volunteers now, they have been conducting learning sessions for the children of this community every Sunday morning from 9 to 11 since June 2017.
A group of around four volunteers from ERP visit Kasun and his friends every week. Starting with a game, the class proceeds to work on language skills and soft skills.
Initially, the ERP had to conduct indoor and outdoor activities that would help the children improve skills like teamwork. They are now transitioning to teaching subjects like mathematics and Sinhala, Tamil and English languages, said Tharinda Mallawaarachchi, an undergraduate at the University of Colombo and member of ERP. Tharinda has always liked to do voluntary work in the field of education.
ERP believes in joint learning, different to the teacher-student relationship in a traditional classroom. Through active classroom participation, ERP looks to help the children. The education model that ERP uses is such that while supporting children with their school subjects, they also carry out discussions about the problems they face daily. They also watch films together in the class. "We try to redefine what is understood as education," said Vidarshana Fernando, an undergraduate in the University of Kelaniya and Treasurer of ERP.
Before December 2017, the dilapidated community hall would leak on a rainy day. But, after a group of Project Management students from the University of Kelaniya voluntarily fixed the leaking roof and renovated the building, rain no longer interrupts classes. The children also have a small library with a few books in Sinhala, Tamil and English.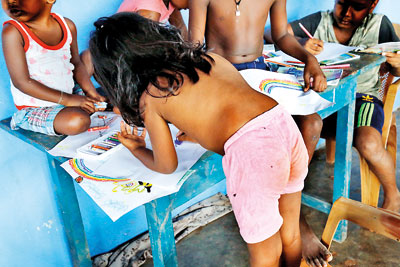 The families that live here were victims of the July riots in 1983.
Located about a kilometre away from the heart of Veyangoda, the community only has one functioning common toilet and many houses are affected by floods during heavy rains, said Jayarani, a resident. Although they receive electricity bills to their names, most residents don't have deeds to their homes.
A group of around 20 to 25 children ranging from ages 5 to 12 participate in this programme. When asked about what they wanted to be when they grow up, the children's answers ranged from coconut plucker to policeman to pilot. They are restless learners, eager to get out of the classroom and play but they enjoy their two hours of learning on Sunday.
Nine-year-old Amila should be in grade 4 if he went to school. Although they tried to admit him to several nearby schools, the schools have not taken him in, said Nagaiya Marimuththu, Amila's father. "I have not received an education, but I want my child to at least be able to read a sign board," he added. Mr. Selvaratnam, another father appreciated the effort of ERP.
"We prefer to work with the communities for longer periods in order to build trust that would create a space to do more impactful work," said Upul Wickramasinghe, Co-founder of the Education Renaissance Programme. Initially the residents seemed indifferent to their work but with their regular visits, the residents now trust the volunteers and their interest in working with the children, said secretary and volunteer of ERP and undergraduate at the University of Colombo Maheshika Sewwandi.
As students who benefited from the free education system, the founding group of ERP felt the need to fulfil their ethical responsibility to society, said Upul. By intervening in the education of these children, ERP hopes to help the community to improve their living conditions. "Any change that needs to be made in society has to succeed good living conditions," said Thiyagaraja Waradas, co-founder of ERP. The two founders graduated at local universities and are currently reading for their PhDs overseas.