'Siam House' celebrates 25th Anniversary
View(s):

Colombo's favourite Thai food restaurant, Siam House is set to celebrate 25 years of authentic Thai food in grand style this month. The momentous occasion will be marked with a week-long Thai food festival from 24th to 31st May 2018, featuring delicacies from the four regions of Thailand along with authentic street food. A team of Thai Chefs have come down to Sri Lanka especially to cater for the food festival, which will take the opportunity to showcase Thailand's diverse culinary delights including dishes that are not regularly served at Siam House.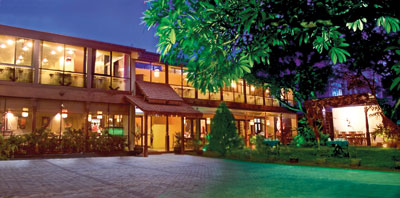 The 25th anniversary celebrations officially commenced with a gala event on the 23rd of May.
Discussing the silver jubilee celebrations and elaborating on the history of Siam House, Mr. Lionel Fernando ,Chairman, Benjarong (Pvt) Ltd said, 'In 1993 we were the first restaurant to introduce Thai cuisine to Sri Lanka. We were a revolutionary restaurant at the time as we brought down our whole production team from Thailand, headed by a Thai Executive Chef. To this date, Siam House enjoys unparalleled reputation for the authenticity of cuisine it offers as well as the consistency and standards we uphold. Our commitment to consistency and upholding our high standards has been the key to our success. We look forward to the next 25 years, energised and ready to serve great Thai cuisine to generations of Sri Lankan diners to come.'
Thai Cuisine is known for its harmonious blend of the sour, sweet, salty, bitter and spicy and is prepared with special care to be equally satisfying to the eye, nose and palate. Thai cuisine encompasses a wide variety of food from the four regions, the north, the north east, the south and the central plains of Thailand and these different culinary styles have been shaped largely by the availability of ingredients and various other influences making Thai cuisine one of world's most delightful and varied cuisines. The famous authenticity of Siam House Thai food is derived from the professional expertise the place possesses as well as their use of only authentic Thai ingredients. To this end, Siam House imports all ingredients directly from Thailand and they still prepare their famous curry pastes in-house using fresh ingredients.
The Siam House Thai Food Festival features all these regional cuisines along with street food and both alcoholic and non-alcoholic Thai beverages, specially prepared by a crew of expert Thai chefs making the whole experience a memorable one.
Siam House is located at 17, Melbourne Avenue, Colombo 4 and is open 7 days a week from 11.am to 11.pm.