From designing blocks to frocks
By Tera Jayewardene
View(s):
Possessing a unique sporty vibe, Nadeeshani Ratnayake's collection stood out in the 2018 HSBC Colombo Fashion Week Emerging Designer showcase in March – brightly coloured, one-piece dresses, luminous green pencil skirts, and embellished crop tops, this was a collection meant for an active young fashionista.
A trained architect who gave up the profession to follow her passion for fashion, Nadeeshani uses her architectural knowledge as inspiration for her fashion pieces; a disorganized array of numbers and grids was a staple in her collection which employed block building like silhouettes.
Fashion always figured in her life and when schooling at Visakha Vidyalaya, Colombo, she always got her own dresses made. During that time of her life, she says, she was at a cross road. She could either become an architect, which she has always had interest in or choose to become a fashion designer. After seeing a model of a building at a university fair which fascinated her deeply she opted for the former.
Earning her BA (Hons) in Architecture at the University of the Arts, London she entered the workforce but found it too serious for her liking. She thoroughly enjoyed being in university as she had the liberty to create and experiment. She was able to make things that weren't always practical, and even able to draw inspiration from fashion for her architectural projects. "Fashion can be very daring, and as such you can be more creative and express yourself," she says. In addition, architectural projects take many years to come to life but when creating a dress it can materialize in a few days.
Once she made the decision to switch Nadeeshani got to work. She got a certificate in display design from Central St. Martins, did an internship with Ralph Lauren London, did another certificate course at Raffles Design Institute Colombo in fashion design and worked for Dilly & Carlo where she learnt technical aspects of the fashion field such as sewing, pattern making, fashion illustration and stitching.
Her experience at this year's HSBC Colombo Fashion Week was something she had wanted for a long time. She had done the groundwork necessary to get herself to the position where she would be eligible – the qualification, work experience and going for every workshop that Colombo Fashion Week offered for up and coming designers.
She was a part of Project 7 conducted by Colombo Fashion Week, where she was mentored and guided on how to make her own collection. This helped dispel any confusion, she smiles. "When creating a fashion line, you start from one place and end up in a completely different place and you don't know where to stop. "
"Project 7 taught me that when making a collection, inspiration is something that has to come from within you and something that reflects you as a person. I could create something that would be unique that could generate its own market," says Nadeeshani.
"The platform is great for emerging designers as it is hard to get a collection out as well as find a market and get exposure for it and Colombo Fashion Week gives emerging designers just that," she says.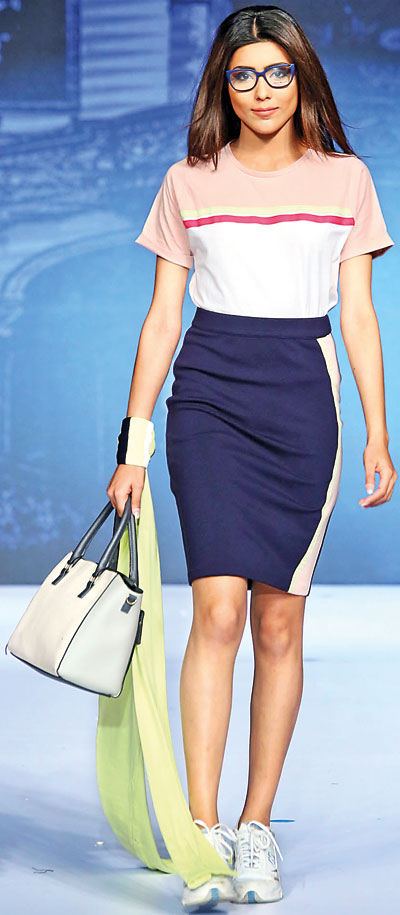 Nadeeshani's collection fits her own personality perfectly as she is a tomboy who has done sports as a child. By looking introspectively she realized her own interest and personal styles which helped her create her own collection.
For Nadeeshani sticking to a brand's core but being smart enough to experiment and incorporate other elements is a key aspect of a successful designer, which is why she loves the work of Calvin Klein.
Tommy Hilfiger, Gap and Levi's are among her favourite brands and she counts Kendell Jenner and Victoria Beckham as her fashion icons. Her favourite Colombo Fashion Week collections are by the brands Maus and Conscious. She really loved Marlon Rae's collection Oxidized world from the Emerging Designer Showcase, she adds.
A senior designer at Odel who plans on having her own brand sometime in the future, Nadeeshani has also won several awards in photography and showcases her talent on Instagram. Follow her on Instagram:https://www.instagram.com/forever_creative_soul/