DOWN MEMORY LANE SING- ALONG ONCE AGAIN !
View(s):

Sri Lanka's longest running and the most awaited 'golden oldies' sing along programme 'Down Memory Lane' will come alive on 8th July at the Hotel Randiya, Moratuwa  amid lush  and  salubrious  surroundings .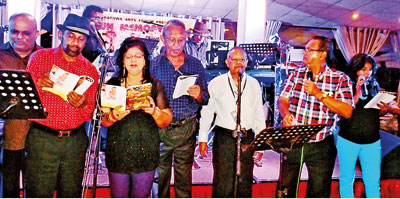 This will be the eighteenth programme in series, which commenced in 1997 and organized by the Moratuwa Arts Forum (MAF). The venue has been changed to a closer locality to the town centre to facilitate everyone.
Like in past years, the galaxy of singing stars from Moratuwa will take turns on the bandstand to get the audience animated to sing their much loved songs from the days gone by. The music for  the  evening will  be provided  by the 'Nalin and the  Star  Combination',  comprising  Nalin  Fernando  and his wife Shermila, both  of  whom  are  longstanding  members  of  the  MAF  in addition  to Jagath Peiris on lead  guitar and Ravi Fernando playing keyboards.  They will be joined by other MAF musicians to comprise the MAF Orchestra.
As always, vintage international evergreen songs loved by one and all, along with hits from the 60s up to the 90s   are included for this 2-1/2 hour programme.
''Down Memory Lane' is different from  other  sing  along shows as it truly depicts golden oldies – with songs from the likes of Jim Reeves, Eddie  Arnold, Marty  Robbins, Roy  Rogers, Gene  Autry, Hank Locklin, Doris Day, Hank Snow, Connie Francis etc., are sung along with more recent ones along  with a sizable number of  Sinhala favourites' said Priya Peiris, the man behind the 'Down  Memory Lane' project.
Special vocal spots are also included for added entertainment and variety.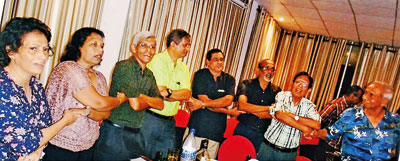 'Nostalgia  is our primary concern as you literally  go down memory lane on a sentimental journey  of memries'  remarked  Priya  Peiris and  Laksiri Fernando, both reputed  senior musicians and joint  project Chairmen this year .
Table  reservations could  be made  through Laksiri Fernando (077 376 2275 ), while tickets can be purchased from Suranga Fernando (077 737988 ) or bought direct from Multi  Pharmacy, Rawathawatte, Moratuwa.
On line tickets can be booked through www.ticketslk.com  
Tickets are priced very moderately at Rs.800/-. Food and beverage stalls will be available at the premises.
All music lovers are invited  to  come along  for 'Down  Memory  Lane' to sing,  sing  and  sing.