Amaranath brings latest classical guitar music CD
View(s):

Renowned classical guitar guru Amaranath Ranatunga released his forth and newest collection of classical and flamenco guitar compositions, 'Your Way' recently.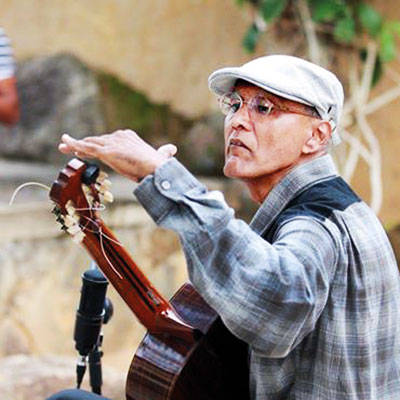 The collection includes 10 pieces namely 'Deep and Reality', 'Yesterday Gone', 'Romantic Cadence', 'Movement', 'Your Way', 'Don't walk, run', 'Last part of the Night', 'Romantic poem of King Kashyapa', 'Change your mood' and 'Beyond the Triangle'.
Among the collection Amaranath specifically mentions the second 'Yesterday Gone', sixth 'Don't walk, Run' and the eighth piece 'Romantic poem King Kashyapa' in the compact CD.
'Yesterday Gone' narrates that many people face defeats, discouragements, failures at the end of each today but for all of them there is a hope, that is tomorrow and 'Don't work, Run' tells there should be aims and dreams in life. Without aims and dreams life cannot be directed to a victory. In 'Romantic poem King Kashyapa' Amaranath recreates the story of Kashyapa in three parts. In the first part he musically creates the building of Sigiriya by Kashyapa, the second part its beauty and the third part depicts the declaration of war against his brother Mugalan.
Amaranath who has extensively contributed to Sri Lankan music through classical and flamenco guitar has produced a large number of students to Sri Lankan music and academia. Over the last 16 year service at the University, he has produced seven batches of graduates and more than 40 of them now serve as music teachers all around the country.
They have introduced classical guitar as a musical instrument at their respective schools. Today Amaranath's students have produced the next generation who play that beautiful musical instrument, classical guitar.
"In 2014 there were only four teams who took part in the All Island School Music Competition using guitar as an instrument but in 2017 this increased to 49 teams," says Amaranath who is proud about the service rendered by his students to expand horizon of music in government schools.
Amaranath who began studying guitar as far back as 1964 under American guitarist Mervyn Sanders and Indrani De Silva, started to learn Fleminco guitar in 1977 under Mexican Flamenco guitarist Fredric Bruno. Amaranath is the first Sri Lankan university lecturer in classical and Flamenco guitar and also the first Asian to develop a syllabus for classical and flamenco guitar for a four year BA degree.
In March this year Amaranath performed in Australia with some solo concerts. He performed in Alvie Hall, at Mount Waverley, at "Glenroy Live Guitar Performance" at the Glenroy library in Glenroy and solo concert in Chandler Theatre at Keysbourough in Melbourne.
The latest musical compositions , 'Your Way' is now available at all Sarasavi book shops around the country.