Renown Sports Club to launch second Football academy
View(s):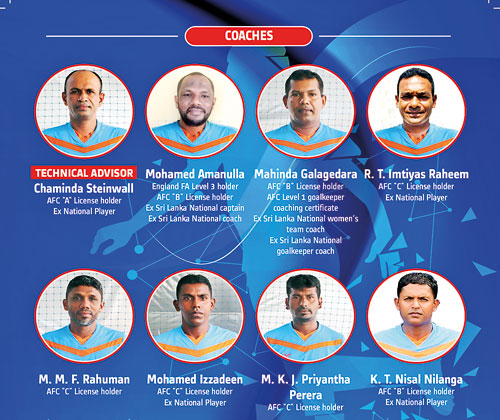 Renown SC, one of the leading football clubs in Sri Lanka, will launch their second academy on June 1 at the Racecourse ground in Colombo. Unlike their present free academy which is targeted towards the local community and player development for the club, the purpose of the new academy, which will follow a paid model, is to raise the profile of Sri Lankan football and establish a new generation of players who are technically efficient and comfortable with the football from a young age.
Children in the 6 to 16 age group will be taught basic to advanced skills in the academy. The target is to improve the players technically, tactically, physically and psychologically with individual attention to each and every player. Evaluation charts will be maintained to monitor the progress of every child. They will be coached by a team of AFC (Asian Football Confederation) Licensed Coaches. Some of them are former national players, while others have excelled in the club circle. In future foreign coaches will be brought in to train the players.
"We see so many football academies sprouting all over which is good for the development of football at the grassroots level. At the same time there is a methodology to setup and coach in an Academy which we feel isn't being implemented properly in many of these academies as coaches without required qualifications just coach kids training direct from you-tube clips. For the casual viewer or parent it might seem that their child is getting quality coaching with all the coaching equipment, but in reality there is no benefit for the child," a senior official of the academy stated.
He further stated "This Academy was almost two years in the making as we had collaborated with several major academies and football clubs in Europe as well as in Asia to implement their coaching methods. We have also taken feedback from several past coaches and players to identify the deficiencies of Sri Lankan players. We will be implementing European Academy coaching method and style of play customized to suit the physical attributes of Sri Lankan children. The fees will be reasonable and we will give full or partial scholarships for exceptional players as well. We have also started training our coaches first before they teach the children so that they are familiar with the coaching methods. In the long term we have several plans for the academy. Annual football festivals will be held to raise the profile of football so that more children will take up football in future. Select academy players and teams will be sent to participate in international training camps and competitions."
Renown SC, established more than 40 years ago by the Peiris brothers, have won the local Champions League and FA Cup competitions several times. They were the first Sri Lankan football team to win an international competition which they achieved by winning the President of Maldives Invitational Soccer Cup (POMIS Cup) in 1985. They have represented Sri Lanka in several Asian club competitions and in the Asian Cup Winners Cup Tournament they beat the premier team in India, East Bengal FC in the second round and reached the pre-quarter-final stage of the competition which was open to all club teams in Asia including clubs from Japan, South Korea and Middle East countries.
Renown SC is recognised for youth development from its inception and throughout the years players from schools like St. Benedict's College Colombo, Zahira College Colombo and St. Joseph's College Colombo etc. have represented the club while still in school. They have one of the youthful squad in this year's Dialog Champions League tournament and their belief in youth is proved in the recent signings of the club.
Balendra Anthony, founder of the St. Joseph's College, Colombo Academy and a former Football Federation of Sri Lanka (FFSL) Secretary General, is a consultant for the new academy along with Trevor Reckerman, another former FFSL Secretary General and renowned marketing expert, who has been responsible for many national football event sponsorships over many years.
For Renown SC it's a long term project as the true success would be when the first batch of children in the 6-10 age group come out of the academy in a decade's time. Unlike other academies there will be a pathway for them to represent Renown SC but the goal is to produce talented players who are good enough to play in professional leagues in nearby countries like India, Singapore and Malaysia with intentions of nurturing quality players and improve the standard of the national team.
The founders of the academy Robert Peiris and Sritharan Peiris, along with other officials and coaches of Renown Football Academy thanked the new Sports Minister, Faiszer Musthapha for the support and guidance he gave to them and assured they will do their best to develop football in Sri Lanka and rekindle the interest in football which is still the main sport in several parts of the country.
Training sessions will be held on Friday evenings at Racecourse ground and on Saturday or Sunday evenings at the Sports Ministry Ground in Torrington with seven sessions every month.