Expect a real trailblazer and more action
By M. Shamil Amit
Eighth Walawe Supercross
View(s):
The much looked forward to Uda Walawe Supercross conducted by the Sri Lanka Army Motor Sports committee of the Sri Lanka Army Electrical and Mechanical Engineering (SLEME) will speed off at the Uda Walawe Supercross in Sevanagala, Uda Walawe today.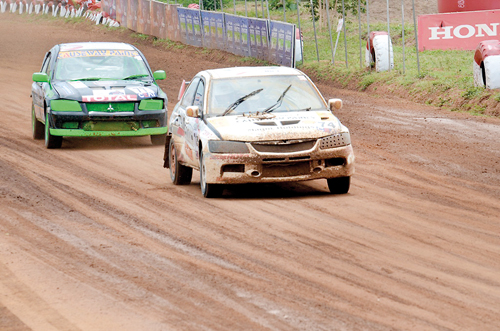 The inaugural meet was held in 2011 and has since then gone from strength to strength and this year too, the organisers along with the sponsors who have come forward will be looking forward to end the event with success as in the previous years. Sri Lanka Moto Cycle Club (SLMCC) are the organisors of this event and is sponsored by Causeway Paints with CEAT, Cold Stores, Stafford Motors as co sponsors
The track situated at the 17th mile post on the Uda Walawe-Thanamalwila main road, just outside the Army camp is close to the Uda Walawe National Park which is patronised by locals and international tourist with awe.
The Uda Walawe National Wildlife Park is considered as a major eco tourism village which is supposed to be one of the best parks to view elephants. It has become a holiday resort and with this in mind the SLEME together with SLMCC are not leaving any stone unturned to make this a grand event.
The SLMCC has a proud history of over six decades in organising motor racing events in the past such as the Reliability Trials, Circuit meets in Kurunegala, Ratmalana and Matugama, Road races in Kurunegala and Nuwara Eliya to name a few.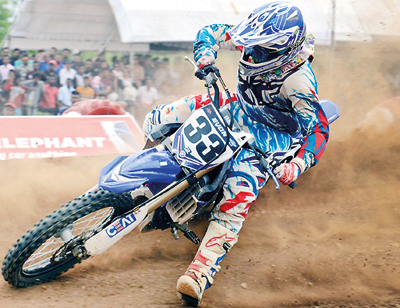 The Uda Walawe Supercross is not only fun and enjoyment for the spectators as the SLEME is conducting this with a worthy cause in mind as all proceeds will be for the benefit of terrorist victims of the regiment and also for disabled soldiers which they have been doing since the Supercross was initiated in 2011.
The top driver of the meet last year Ashan Silva who is in top form this year and rider Evon Gurusinghe will be looking forward to retain the title but they will face stiff opposition from in from  Aravinda Premadasa and Ishan Dasanayake who both are in top form in the motor car and motorcycle category.
In fact Ashan and Ishan were adjudged the best driver and rider at the recently concluded Foxhill Supercross held at Diyatalawa.
Young Kushan Peiris who won two events last year and from recently who too has been in top form in the motor car events along with Imal Manchanayake, Buddika Silva and Lahiru Jeewantha in the motorcycle category will be the other notable riders to watch out.
Twenty five events are scheduled to be held for the day with 12 in the motor cycle and 13 in motor car categories.
The schedule of events:
Motorcycles – 1. Standard/Modified up to 125cc (2T&4T). 2. Standard/Modified up to 125cc 2T & 250cc 4T (Twin Races). 3. Forces event up to 125cc 2T (Special Club Event). 4. Racing Motorcycles over 100cc up to 125cc (2T). 5. Racing Motorcycles over 100cc up to 125cc 2T & over 175cc up to 250cc 4T Twin Races). 6. Racing Motorcycles over 100cc up to 125cc 2T for Forces (Special Club Event). 7. Open including 125cc up to 500cc (2T) and 250cc up to 750cc (4T) (Mono or Twin Cylinder – Two Races). 8. 50cc (Automatic Transmission) over 5 years, Under 10 years. 9. Over 65cc up to 85cc (2 Stroke) over 9 and upto 12 years. 10. Over 79cc up to 85cc (2T) and 100cc to 150cc (4T) under 15 years.

Motor Cars – 1. Group SL-E – Cars up to 1000cc and one make Nissan March. 2. Ford Laser/Mazda 323 up to 1300cc. 3. Mini up to 1275 (One Make). 4. Ford Laser/Mazda 323 up to 1500cc. 5. Cars up to 1500cc. 6. Group A Modified Cars up to 1050cc. 7. Group SL-A – Mini7 up to 1000cc. 8. Group SL H Cars up to 1618cc (One Make Honda). 9. Subaru Legacy up to 2000cc. 10. Group SL-GT – Cars up to 3500cc Two Races). 11. Group T&J – Trucks & Jeeps Diesel Turbo up to 5500cc. 12. 11. Trucks & Jeeps Open.