Confusion in rugby; TMO is not the referee
View(s):

Confusion in Rugby is not because of concussion suffered on the field but, because of a PhD (partially head damaged). One day, it is said that the Western Province Rugby Football Union (WPRFU) President has resigned. Next day, the talk is that the resignation has not been accepted. A few days later, the WPRFU President announces to the public that he has resigned. M.H. Marso says he has resigned as he can no longer hold office because he has left the Police, and hence, not a member of any Club. Good to say so and quit. The question, however, is why it took so long to quit, when it should have happened earlier.

By virtue of office in the WPRFU, he was also in the Council of Sri Lanka Rugby (SLR) headed by Asanga Seneviratne. Having been in the Council, he also took part in the constitution amendment deliberations and expressed his opinions on other issues. SLR probably needs his service but, albeit only if he is in that position, because he came through being eligible as per the set process. This is not all that is an issue in the process.

The requirement of World Rugby (WR) is that the Chairman of the Appeal Board (AB) has to be a lawyer. Was the SLR's AB Chairman a lawyer, is a question the administration of Seneviratne should answer. If you don't have the credentials required to be there and do not know that, how can people expect you to know the rest of the WR guidelines. While there were musings that the WP nominations were to be challenged, it now appears that, those relegated, talk of bravado in the heat of the moment. Does pride go before or after a fall?

I also saw a statement attributed to the Secretary of the Referees Union, clarifying the position and qualification that allows a person to be a Television Match Official (TMO). This was in answer to issues raised in the newspapers and attributed to a former referee and high performing match official in the past, who had alleged that we don't have qualified TMOs. Is this not confusion?

Best interest of the game would have been to ignore the comments, than to compound confusion. On the other hand, if the statement saying we don't have qualified TMOs is not accurate, what was done to ask why this statement was made and breaking the code of conduct. To me, the question is not about qualifications, but about capability, which is more important.

For example the WR Level 2 Officiating Course is designed to provide referees with the skills needed to referee age grade and senior matches in the club or school environment in major unions, and to higher levels in less developed unions. So, obtaining a qualification does not mean you can referee at all levels.

We hear about unemployed graduates protesting asking for jobs, and being met by water cannons. There are many who graduate through the university and most find jobs, while some don't. All have a qualification, but some succeed, while some cannot even find a job. I hope that explains to some extent the qualification and doing a job. What is required is professionalism, to get the message accepted by the receiver. Running to the sideline to talk to a TMO does not show professionalism in a decorated and highly attended event. If the infrastructure is not in place, just do away with it, than use the TMO which most probably helps to glorify, than to support a referee. Those who think and comment on social media must ask themselves why they say that a TMO is needed, because referees make mistakes. The TMO is to help a referee, not to take over the job of a referee. If this is not understood, the TMO is and will be a indication and confirmation of incompetency.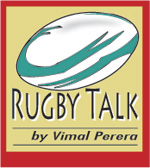 I have also been reading social media posts commenting on the refereeing of the 2 Legs of the Bradby Shield. People are entitled to voice opinions and make judgments on who did better. Are they factual or anecdotal is what is important. Some talk about consistency. I would think it is more attributed to the style of refereeing and interpretation and applications. I don't think Nigel Owens, Wayne Barnes, Jerome Gracias and others of the top squad, referee in the same style. One thing I see in common is that they are consistent in applying the laws on quick ball. But yet, in their own style. One thing they have in common is getting to the breakdown early and getting into position to see that ball first then look at the inside and monitor the outsides. If you want to catch a bus or train, you need to get get their on time. If you are late, then you got to catch the next bus, and then it is late. If you are late, you don't catch the first mistake, and you don't get a good seat. Then it slows down, and mistakes by players pile up and confusion sets in. I watched a match where a team gets hammered while the opposition scores 50 points. The comment I heard was hilarious, considering that out of 48 times you have won just once.
"The referee is too young and needs more experience."
What sprang to mind is was it the same for 48 years. The world over, referees are young and not those who have played Rugby at the highest level. But they who are fit to get their in time and get into position and be able to think clearly, not when you are grasping for breadth. That's the difference I saw and see. But people still say why was not this referee, with so many years of experience, not appointed. If you want a bullock cart for your travel do not compare performance.
 Vimal Perera is a former Rugby Referee, Coach and an Accredited Referees' Evaluator IRB