Toasting a new partnership
By Shakya Wickramanayake
View(s):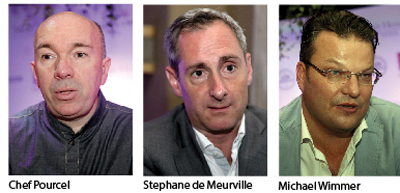 Synonymous with luxury throughout the world with luxury brands from Dior to Bulgari, Moet & Chandon, Dom Perignon and Hennessey in their portfolio, the House of Moët Hennessy Louis Vuitton (LVMH) gave Lankan guests a fine dining experience.
It was a gourmet dinner conceptualised by the The Lifestyle Co. at Sri Lanka's premier French restaurant, Cafe Francais to celebrate  the group's Indian subsidiary, Moet Hennessey India's (MHI) partnership with Lanka Premium Beverages (LPB).
Curated by 3 star Michelin Chef and owner of Cafe Francais, Jacques Pourcel on April 26, as part of the launch, the meal showcased and highlighted the French aspect of the Moet & Chandon brand according to MHI Director Stephane de Meurville, who described Chef Pourcel as an embodiment of excellence with a touch of creative genius. Chef Pourcel himself was enthusiastic about the collaboration. Having been in the industry for over 35 years, he stated that he has always pairs his dishes with wine or champagne. "I can't think of a good meal without it! It's natural," he says.
Pourcel notes that in his four years in Sri Lanka, tastes have refined and consumers now know more about cuisines and thus are more discerning as well as demanding.
To highlight the various champagne pairings Chef Pourcel utilized subtle yet complementary flavours throughout the eight course meal. "I worked every dish with something sparkling and fresh," he adds. Ranging from quintessential French dishes such as foie gras to more daring dishes such as crab accompanied by a Bloody Mary sorbet and champagne emulsion, Chef Pourcel beautifully presented the merger of food and drink as part of a holistic dining experience.
Adding to the experience of the night, Singaporean illusionist Alexander Yuen wowed diners with amazing illusions done with the aid of an Ipad.
Country Manager for LPB, Michael Wimmer said the company will be taking a selective approach into the Sri Lankan market. Which is why to start things out they introduced the champagne brand Moet & Chardon. "Champagne is seen as only for celebrations here. But it should be used to celebrate every dinner," says Wimmer, adding that the latter concept is still new to Sri Lankans.
"We are changing the way we work. Consumers (will now) experience the brand differently," Wimmer said. This different experience will be facilitated by edutainment events according to de Meurville. "Consumers want to be connoisseurs. They want to know the history and the innovation behind it, its authenticity, and who made it," he said, adding that consumers are eager to learn about the right way to consume. These events will consist of trainings, tastings and exclusive dining events for their clientèle.