Japanese gourmet treat at Shangri-La Colombo
View(s):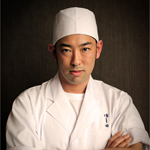 On May 10 and 11, Chef Kenjiro 'Hatch' Hashida will host an elegant evening of dining on Japanese delicacies. The collection includes family recipes, passed down from Chef Hatch's father, a celebrity chef himself. With over 25 years experience, Chef Hatch is known for his innovative yet traditional approach to Japanese cuisine.
Chef Hatch will work with Chef Paul Lenz, Executive Chef of the Shangri-La Hotel, Colombo, in crafting dishes to satisfy Colombo's gourmets.With her passion towards good food founder of the Colombo Supper Club (CSC) Naserah Tyebally is adding more eagerly anticipated events to Colombo's food calendar.
A second-generation celebrity chef from Tokyo, Chef Hatch is a graduate of L'Ecole Tsuji Tokyo (Tsuji Culinary Institute), Japan's top culinary school. From age 14, he apprenticed under his influential father, Master Chef Tokio Hashida, who opened one of Japan's premier sushi restaurants, Hashida Sushi.