Appreciations
View(s):

A politician who brought about a cultural awakening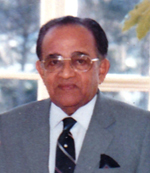 E. L. B. Hurulle
In 1977, E. L. B. Hurulle, the then MP for Horowpothana was appointed Minister of Cultural Affairs in the government of Prime Minister J. R. Jayewardene.
Although the Cultural Affairs Ministry was perceived to be inactive, Mr.Hurulle took it upon himself to give importance and value to the Ministry by embarking on several activities to bring attention to his ministry nationally.
Thus, a major project was initiated by his submitting project proposal No.19 to the World Congress of the United Nations Educational Scientific and Cultural Organization (UNESCO) in Paris proposing the conservation of Sri Lanka's main cultural monuments.
Minister Hurulle's proposal was accepted by UNESCO including the creation and funding of six projects identified as the 'Cultural Triangle' encompassing a distance of 100 miles to cover the ancient cities of Anuradhapura, Polonnaruwa and Kandy.
The six projects approved were the Jethavana Temple and Abhayagiri Monastery in Anuradhapura, the Sigiriya Water Park, Alahana Pirivena at Polonnaruwa, the Rock cave temple in Dambulla and the heritage sites in Kandy.
As such, excavation work commenced at these sites funded by UNESCO. Discoveries of cultural and historical value were made. In addition neglected Buddhist temples around Sri Lanka benefited by way of development and the increased attention of both local and overseas devotees was seen.
Mr. Hurulle was born in January 1919 in the village of Morakewa, Horowpothana in the district of Anuradhapura as the second son of Tikiri Banda Hurulle Rate Mahatmaya and Alice Bulankulame. He had his education in Trinity College, Kandy and St.Patrick's College, Jaffna after which he joined the Government Service in 1938 as a Divisional Revenue Officer (DRO) in the Moneragala District. Thereafter he served the people in Vavuniya North, Matale North and Kahatagasdigiliya in the Hurulle Palatha of the NCP.
Having seen his honest and dedicated service to the people as a DRO, the then Prime Minister, Sir John Kotelawala, invited E.L.B. Hurulle to be the candidate of the United National Party (UNP) for Horowpothana at the Parliamentary General Election of 1956.
Although the UNP at this election was reduced to a mere eight seats in Parliament, Mr. Hurulle won his seat comfortably and in the two Parliamentary elections that followed in 1960 as well.
Following the Parliamentary General election of 1965, he was appointed Minister of Transport in the Government of Dudley Senanayake and played a pivotal role in the development of transport in Sri Lanka.
The importation of quality vehicles for the taxi service, land vehicles for estates, lorries for the transport of produce and materials throughout the country were a few economically beneficial activities initiated by him. In addition, it was during this period that Ceylon was able to purchase a Trident passenger jet plane for Air Ceylon which allowed the airline to fly international air routes and put the country on the international air map. The Railway Department too was supplied with modern diesel engines and carriages.
With Mr. Hurulle's appointment as Minister of Cultural Affairs in 1977, a whole new awakening of Sri Lanka's cultural and religious heritage was seen. Mr. Hurulle being a descendant of the lay retinue who accompanied Theri Sangamitta who carried the Sacred Bo tree sapling from Dambadiva to Anuradhapura facilitated the bringing of the sacred Kapilawastu relics of Lord Buddha to Sri Lanka for the first time and made arrangements for the relics to be taken to all parts of the country for exhibition and worship over a period of 60 days.
He also arranged for a Tripitaka Dharma Sangayanawa at Mihintale, facilitating  Buddhist devotees to make pilgrimages to India and Nepal, ensuring the distribution of books on Buddhism to students attending Dhamma schools around the country, and arranging for the Department of Examinations to conduct Dhamma examinations and Dharmachariya examinations.
The Department of Buddhist Affairs of the Cultural Affairs Ministry played a principal role in these activities. It was during this period that significant amendments to the Temple and Devala Ordinance were made and action taken to increase the income of Temples and Devalas from their properties.
From an international perspective, in 1980 Minister Hurulle attended the sessions of the World Fellowship of Buddhists in Thailand and proposed that a new organization be set up consisting of world Buddhist leaders and professionals which was approved unanimously. As a result, the first sessions of world Buddhist leaders was held in Colombo, Sri Lanka in 1984.
At the same time, Mr. Hurulle ensured that his Ministry assisted and facilitated activities of other religions to ensure their development while having an excellent rapport with their religious leaders. He treated and respected all people alike, irrespective of race, religion and caste.
Being an honest politician from a respected family, E.L.B. Hurulle had a contented life up to the age of 90 years having lived and worked for the people of our country sans allegations of dishonesty or fraud.
I wish and pray that he attains the supreme bliss of Nirvana!
(E.L.B. Hurulle's 9th death anniversary fell in April)
H.M.Wimalaratne
---
Unsung hero of  NLDB who knew his livestock like no other
LESLIE FONSEKA
It is not always that a child's love becomes his profession through his entire life, with no deviation. This is how it was in the case of Leslie Edgar Arnold born to George Arnold and Grace Fonseka on May 8, 1918 at 'Lily Lawn' in Rawatawatte, Moratuwa, a 100 years ago. Leslie Fonseka was a lover of animals, livestock in particular, cattle and poultry being his real love, from childhood.
Leslie Fonseka spent his formative years at Prince of Wales College, was a senior cadet and a school prefect. His first love, however, were his pets, cattle and poultry. When eggs hatched, he did not go to school, when a calf was about to be born he did not go to school, in fact when any animal fell sick, he cut school. Homework was also of secondary interest. It is said that on critical days in his 'farm' his sisters pitched in with his homework. He had four of them to call on, in addition to his elder brother.
Leslie sat for his Cambridge Junior and London Matriculation, public exams of the time. On leaving school, it was a Diploma from the School of Agriculture and the first appointment at the Maha Illuppalama Farm in the North Central Province. Malaria was the scourge of many in those regions and though the family tried to make Leslie change course he never wavered. When as the Assistant Livestock Officer at the Ambewela Farm, there was no assigned residence, he lived at Black pool in Nuwara Eliya. The daily routine started at 4.30 a.m. In a region not known for its warm weather at that time of day, he walked over 12 kilometres to work, and at the end of day a similar trek was needed and the much awaited warm water bath, a luxury.
He married on April 10, 1944, just after a bout with Malaria, losing weight and then in his ill-fitting new suit, stitched for the purpose. No wedding photographs could be seen in later years.
In 1946 Leslie was assigned as the Farm Manager in the Livestock Farm at Ridiyagama, over the years clearing over 800 hectares of jungle land for pasture and with wild boar, elephants, leopard, other animals and reptiles, sharing the land. He with his wife and infant daughter lived in a wattle and daub hut with woven coconut palm (cadjan) for a roof. There were times when they slept with a roof over their head but got up sans the roof as the elephants had decided otherwise. The disruption by one rogue elephant to the progress in the farm was impossible for even the always patient Leslie and his written request to shoot the animal was dispatched to Colombo. The reply was received asking for the height of the elephant. Leslie responded, "if I can get that close to the animal to measure its height I will not be asking approval to shoot". It is said that each of the more experienced persons who read the response nearly fell off their chairs with laughter. What was required was to measure the circumference of the elephant's foot print, left behind and apply a formula. The circumference was sent to Colombo for calculation and approval for shooting.
A herd of 1300 Murrah Buffaloes helped to make not less than 1200 pots of curd per day at the Ridiyagama Farm, the first pot being made by his wife Freda. Three windmills to supply water were installed, this was a first in the island. The nearest town and medical care  was 32 kms away.
As a young man Leslie was adventurous and ventured out hunting with friends but tragedy struck when one friend shot another by accident. They kept vigil over the body of the friend with bonfires through the night until the Police arrived. These are but a few of his farming experiences and adventures.
In 1952 he was awarded a Junior Fellowship under Colombo Plan Technical Assistance Scheme to the Ontario Agricultural College, in Canada. On his return he was appointed Manager to the Livestock Farm Bopathalawa and had the distinction of rearing the South East Asia Champion Friesian cow (Z 1992) which produced 9962 litres of milk in 305 days lactation. A daily average of 32.7 litres!
A Livestock Officer in 1958, his good work enabled him subsequently to be the General Manager in charge of 14 major farms.
He became a Deputy Director of Agriculture in Animal Husbandry and established Stud Centres in the Dry Zone. With development experience he was appointed the Project Director Sri Lanka / IDA Dairy Development Project financed by the World Bank and the Netherlands Government.
He was a Management member of a team to Delhi to purchase 1000 Murrah Buffalo heifers for the Condensed milk project. He transported them by train to Bombay and accompanied the animals in the cattle ship to Sri Lanka without any deaths and eight births that took place on board. He was commended by the Minister of Agriculture, the late M.D.Banda for this great work.
In 1977 Friesian heifer calves were airlifted from Australia. When one shipment of cattle had many deaths, Leslie decided to go and select the animals himself, for he knew his cattle.
It was a time of great happiness when step by step with real dedication, often missing many events of family and friends, he reached the pinnacle of his career. In 1980 Leslie was appointed Chairman of the National Livestock Development Board (NLDB) where he held office for many years. He served the state for 50 long years, an achievement recognised with a Presidential Award. He was a true Public Servant.
His ambition and dedication had no boundaries. He wished to see Sri Lanka become self-sufficient in milk production. Fresh milk is now available in tetra packs and poly packs and many make use of it. Sadly he is not with us to see it all. During his tenure as Chairman he closely monitored the funds. The Board generated its own income for its capital and recurrent expenditure.
The NLDB office was maintained at Ward Place on rent and he had a vision. The Head Office at Nawala Road was constructed utilizing Board funds at a cost of Rs.4.5 Mn with its own resources without the help of the Treasury or other lending institutions either foreign or local.  Milking machines at the Ambewela farm were introduced by him, a first in Sri Lanka. Going back to his career from 1958 – 1980 he organised and supervised the unloading from ship and plane, the transport to farms by rail and road. A special train from Colombo to Pattipola took a herd of cattle to the New Zealand farm. Importations of pigs, breeds of cattle, buffaloes and goats from New Zealand, Australia, Netherlands U.S.A, Pakistan and India were undertaken with minimum loss and injury.
In the 80's this man of faith gave of his time and knowledge to supervise the construction of a Church in Moratuwa.
He was a strict disciplinarian and did not tolerate misuse of funds or any irregularities. He punished the wrong doers in order to correct them.  When a former Government Minister tried to acquire land from a Government farm for his personal gain Leslie sought legal action and was able to win the case against the Minister.
Although strict, he had a tender heart. He was always there to help anyone in need, be it family or any other, in any situation, official or personal. He enjoyed life and was fun-loving. All the nephews loved his company and wanted to travel in his Austin 50, 'Austy Putha' on family trips – one had to see the packed car, to believe. At every gathering he was requested to sing the Farm school song, 'Farm School eke Kollo Vasai…..' which all enjoyed and joined in.  He was loved by all. His wife Freda and he celebrated their Golden wedding in 1994 and he was called home three months before their 60th wedding anniversary.
Leslie Fonseka was a Farm Manager from his school days, later in life, still working,  he also became a true 'Shepherd to his Flock', not only by name, being responsible not only to livestock, but also to his colleagues, friends, his church, his family, in fact to all those who came in contact with him.
I am grateful that I knew Punchi Mama, and that I knew him well.
Hiran Fernando
---