Sporty gesture
By Shakya Wickramanayake
Sportsman and young entrepreneur Inzamam Hassim launches his own brand of affordable sports compression wear for local enthusiasts
View(s):
The life of athletes and sportsmen, even those at school level, is primarily about training and preparation. Hours upon hours are dedicated each day to optimize their performance and then the next day they do it all over again. Such practices can have a toll on the body, from minor and major injuries to uncomfortable chaffing. One such way to minimize these issues and reduce recovery time is through the use of compression wear.
Unfortunately like most sportswear and gear in the country, compression shorts are expensive and thus not affordable for most, with a quality branded pair being priced above Rs 5000. It's this gap that 26-year-old entrepreneur Inzamam Hassim hopes to bridge with his sports apparel brand Combat APR. Providing quality compression shorts within the price range of Rs 2000 – 2500, Inzamam aims to ensure that it will no longer be just a luxury that few can afford.
For Inzamam, himself a sportsman who played basketball both at national and club level, Combat APR which was launched this year, is more than just a brand, it's his passion. Growing up, sports meant everything to young Inzamam. "I focused on it more than anything else during school," he recalls. It was during his time playing basketball for his school, Lyceum International School – Nugegoda that he first encountered the issue of finding affordable compression shorts. The almost daily practices were intense and often he would find that conventional underclothing would cut into and chafe his skin. But still schooling he couldn't afford to spend over Rs 25,000 just on a week's worth of compression shorts. "It's hard to ask your parents to spend so much on just underwear," he says matter- of-factly. It wasn't until after he left school in 2010 did the idea for creating a more affordable alternative occur to him.
In 2012, Inzamam, who always had an entrepreneurial streak, presented his idea for locally manufactured high quality compression shorts at the HSBC Youth Enterprise Awards. Though well received many doubted that he could deliver it at the target price of Rs. 2000. " I remember the head of Google in Sri Lanka at the time, telling me that he liked the idea but that I'd never get it under 2000," says Inzamam as he recalls what the judges told him. But Inzamam was undeterred.
Drawing from his personal experiences, Inzamam focused on three areas when creating his design- comfort, mobility and breathability. Using locally sourced material, the product went through countless tests to perfect. He tell us that when tested out on friends who played sports both professionally and at varsity level here and abroad, most not just found it satisfactory but endorsed it as an alternative to brands such as Nike and Underarmour.
But for Inzamam providing affordable sportswear is not the only goal. Having met and played against athletes from across Sri Lanka during his school days he was hit by the extent to which most outstation athletes lacked the resources he took for granted. "There's so much talent out there to be tapped," he says as he explains how he wants to now help his fellow sportsmen and help develop sports in the country. To do this, Combat APR has taken the initiative of pledging a part of its sales proceeds to fund the development of sports in rural areas and support under-privileged athletes. Done in association with the Foundation of Goodness, the pledge programme will assist athletes and communities to purchase equipment and gear, as well as refurbish existing infrastructure."It's not just about clothing but about building a community," he adds.
The path from the birth of the idea to actually launching has been almost eight years long. This has mainly been due to Inzamam taking time to pursue another start up of his, Block3 Creative – a digital solution and branding agency. " I wanted to take time to build my knowledge in the marketing industry and take a few risks before launching Combat APR," he explains.Through it all Inzamam has found support in his family, who may have at times not understood how he intended to do it but were there nevertheless behind him and now help him run the brand.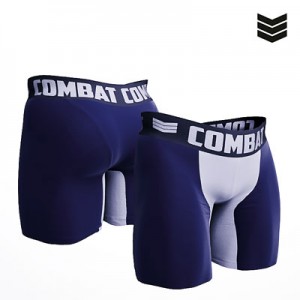 Though currently available only in Colombo and online, Inzamam hopes to expand his distribution to reach outstation cities and towns in order to reach all athletes. Plans are also afoot to move into other sportswear products including women's wear and provide an affordable alternative to all sportsmen.
Currently Combat APR's compression shorts are available for purchase at Fitness Island, Wowmall, wow.lk, as well as on their social media pages on Facebook and Instagram. For more information please check their website www.combatapr.com