No ordinary couples' story
By Yomal Senerath-Yapa
The cast of Silent Hands' latest production, Asymmetry, talk about the challenges of portraying their characters
View(s):
A Silent Hands production is always something to anticipate. This year they bring us Ric Robinson's Asymmetry, a story of human relationships that holds up a mirror to the audiences, where they will see, parts of their own lives- unfathomed and unnamed till then. For others still, the play will shed light on completely novel experiences of living and loving.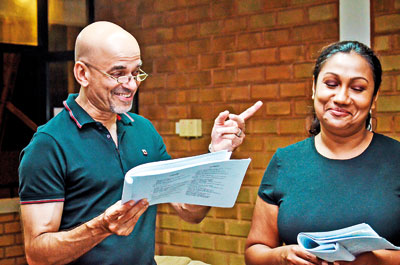 When Jehan Bastians and Neidra Williams, both directors, first saw the script, they were delighted by its realism and brilliance. It is the story of three couples, one of them much more mature than the other two. Their lives come to a head on the same night, though each couple, sharing the same space, is unaware of the other. The primary concern is with the symmetry or asymmetry of human relationships.
Neidra herself plays Sandy, the female counterpart of the older duad who 'takes whatever comes her way; lets everyone trample her and walk off". Working through the script, Neidra felt she could relate to this character, though so different from her own ebullient self. She could understand that a woman to whom life had dealt so many blows could very well act the way Sandy does.
But then on the other hand, Neidra couldn't help being frustrated by how much of a doormat Sandy had reduced herself to. "You want to take the character and say 'don't give in so easily; fight this bloody man!" But eventually Neidra saw that "this was her way of dealing with things; I am not right or wrong neither is Sandy right or wrong."
The rest of the cast was also to find their characters contrasting with their own natures. Miguel, Sandy's lover, is played by Mohamed Adamaly. Miguel is a poetry lecturer; flamboyant, artistic and naturally charming. Especially with the last point Adamaly fits the bill perfectly, but Miguel, in the course of the play, has to reveal a poisonous, dark side which would not have come easily to Adamaly.
Adam speaks for the rest of the cast as well when he says the challenge lay in fleshing and bringing out complex characters within the very short appearances on stage.
"Also, it is far from being a play you could take at face value. You need to watch and understand the layers underneath… It is an experience the audience will take back with them."
Michelle Herft and Shanaka Amerasinghe play Maggie and Cody. Both of them are troubled with the same serious (and socially taboo) affliction. Maggie, Michelle says, is 'intricate' and full of contrasts, her moods switching from one to another in a tumble. Michelle found it easy to become Maggie- her unconventional nature, being 'risky' and even how difficult she finds connecting with her lover.
The victim in this relationship is not Maggie but Cody. Shanaka's somewhat colourful encapsulation of his own character is "a sincere but gullible guy who gets s….ed literally and metaphorically by a fairly devious woman."
To him the play is subtle in that it shows how, "men can also become victims in a relationship, and abuse is not something purely physical but more manipulative."
The asymmetry in the affair between the youngest couple, Priscilla and Julius, seems more imagined than real, but it's just as debilitating: they frantically struggle to bring down the protective walls they have put up around themselves, and reach out to each other and be intimate.
Celina Cramer, who plays Priscilla, found the character intriguing in that it portrays an erstwhile high school bully- a Lila Fowler-like figure- whose confidence had all of a sudden floundered. She now finds herself deeply insecure, with just short and feeble sparks of her former petty, vain nature.
Celina is enthusiastic about the play as she finds there are far too few productions dealing with relationships or sexuality in the country. "Here we are turning these relationships inside out, showing them the insides of the relationship; how it works and how it doesn't work."
Devinda de Silva who plays Julius found being awkward so novel that he needed to vivisect the character of Ross Geller, of the sitcom Friends, and other iconic high school geeks.
Working on the play, with people he had been idolizing from schooldays, made him feel "like a child in Disneyland," he confesses, and he is deeply enamoured with the play itself.
"Ric Robinson is definitely a talented playwright to hide such a plot twist in plain sight as he does. I'm 100% sure everyone who'll come to see the show will not see it coming, but once it's there…"
We have to leave it at that lest we spoil, for ourselves and others, a theatrical experience that promises to entertain as much as it enriches.
Asymmetry, intended for mature audiences, will be staged at the Stables at Park Street Mews with 250 seats each night on May 11, 12 and 13 at 7.30 p.m. Tickets are priced at Rs.3000 each. Each ticketholder will be offered a plate of tapas and a glass of wine from Harpo's at entrance. Tickets are now available at Park Street Mews.