Janakaraliya brings two new dramas
Thitta Kahata' (Bitter Nectar) and 'Hiru Nagena Thuru' go on the boards
View(s):
Janakaraliya drama group has produced two new dramas, 'Thitta Kahata' (Bitter Nectar) and 'Hiru Nagena Thuru' (Until the Sun Rises) and they will go on the boards at the Namal Malini Punchi Theatre, Borella on May 10 and 11 at 6.30 pm.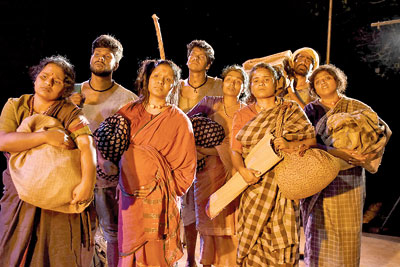 'Thitta Kahata' recounts the saga of labourers of Indian origin working in the tea estates under trying conditions. The drama will unfold on the arena hereto unknown realisms about the estate labourers of Indian origin to the majority of this county.
'Hiru Nagena Thuru' is the Sinhala translation of the Tamil drama 'Enthayum Thayum' written by prominent Sri Lanka dramatist Dr. Kulanthei M. Shanmugalingam from Jaffna. The drama is about the lonely and aged parents of children who emigrated to escape war. The Tamil version has been praised by Tamil communities living here and abroad.
Two books, a series of writings about Dr. M. Shanmugalingam and the Sinhala translation of 'Enthayum Thayum' titled 'Hiru Nagenaturu' will be launched prior to the performance of the drama 'Hiru Nagena Thuru' on May 11.
Both 'Thitta Kahata' and 'Hiru Nagena Thuru' are created by Janakaraliya Drama Group under the leadership of Parakrama Niriella.
Contributors for the two dramas by performing and production are Rasaiya Lohanathan, Sumudu Mallawarachchi, Selveraj Leelawathie, Ajantha Shanthakumar, Sarath Banagala,Arosha Tharangani, Devran Sri Livera, Inoka Lankapura, Ruvini Dilanthi, Praneeth Jeewantha, Vijith Hettige, Palitha Abeylal and Amila Dinesh Kumara.