History, culture and creativity presented through dance
'Swaasam'
View(s):
'Swaasam' the latest choreographic presentation produced and directed by renowned dancing guru Dr. Arunthathy Sri Ranganathan will be performed at 7 pm on May 15 at Bishops College Auditorium.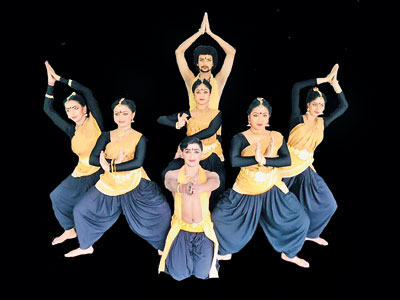 The performance presented in collaboration with the High Commission of India will be graced by President Maithripala Sirisena as the chief guest.
With 'Swaasam' Aru Sri Art Theatre is to offer audiences, contemporary interpretations and innovative productions of rich historical and cultural lore, while retaining the purity of the traditional performing arts.
"We breathe the same air, sing the seven notes dance to the same beat. Keeping to this concept I have designed the concert," says veteran dance teacher Dr. Ranganathan.
The performances include Seeing together titled 'Sama Thrushti' choreographed by Rama Vydyanathan, legendary dancer from India, 'Krishna my soul'- presented in Bhratham, Kathak and contemporary styles, 'Aanapaanasati' teaching of Gautama the Buddha is choreographed by Divya Ravi, versatile dancer from Bangalore India and a unique orchestration MANASU composed by Dr Arunthathy Sri Ranganathan comprising Hindustani, Carnatic, and western instrumentalists and vocalists.
Among the other performances in the line-up are senior dancer and choreographer of Aru Sri Art Theatre Dhakshith Samaraweera's Yoga Shakthi, Yoga and Dance, a breathtaking dance act.
Himanshu Srivastava from Delhi and Divya Ravi from Bangalore, popular dancers who have travelled widely will be performing with the theatre dancers of Aru Sri Art Theatre.