'Father of Sri Lankan cinema' is no more
By Susitha R. Fernando
Lester, a loss that never be filled
View(s):
So much has been written about Dr. Lester James Peries, the foremost filmmaker who pioneered Sri Lanka's authentic cinema. For this very reason he is called 'the Father of Sri Lankan cinema'. This is true in two senses. Undoubtedly, he was the father figure who guided those who followed in his wake, and who generously supported them and shared all his knowledge about the subject of cinema. With the immense experience and knowledge he gained from being self-taught (as he proudly claimed) Lester had the authority to advice any filmmaker, academic or writer on any subject relating to cinema.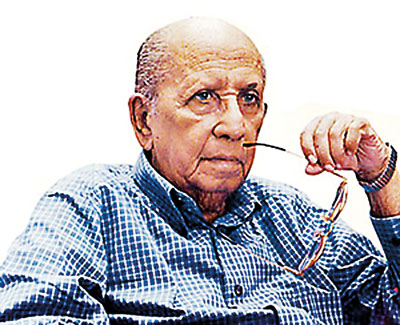 On the other hand, Lester was a father figure to anyone interested in cinema. Be it a young beginner searching for a subject for his first film, a university student researching for his thesis or a writer who wanted material for his writing. Lester was also a father figure who believed and trusted and someone who didn't hesitate to give opportunities to young talent. Most of the artistes he picked proved that his selections were one hundred percent correct.
I remember about a decade ago, when Lester was toying with the idea of "Ammawarune," one of the films made during the latter part of his life, wanted to understand the bond between a mother and son who had given up the lay life. The understanding of this bond was so special to Lester because the entire story was to be woven around this. On a personal note, I am sure this must have been important to Lester because, at one stage, his father wanted him to be become a priest. Having known me and my background, Lester suddenly asked: 'Can you write a script for this?' I was stunned and was wondering whether he was joking. But he was not. He was serious. I flatly refused his invitation because I had not courage even to give a try to write a script for this giant. He later said he wanted someone who had really undergone this experience as his script writer for 'Ammawarune' as for him depicting true human emotions was a top most priority.
In 2004 when I was selected to represent
Sri Lanka at the Rotterdam Film Festival as a young film writer, without having any idea about international film festivals, I went to meet Lester. He went through the festival manual and gave a full lecture on the different film festivals, the most prestigious ones and the less important ones, and the importance of filmmakers and enthusiasts visiting them.
There were many young filmmakers and film enthusiasts who frequented his house at No 24, Lester James Peries Mawatha or former Dickman's Road and for most of them the visits were opportunities to update themselves on many subjects including cinema, politics and what is happening around the world.