7th Colombo International Theatre Festival here
View(s):

"7th Colombo International Theatre Festival 2018″ will be held from May 24 to 30 at the Lionel Wendt theatre in Colombo with the participations from a number of foreign countries.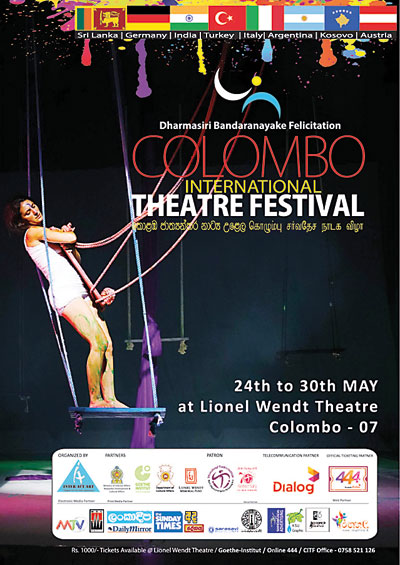 This year's festival will felicitate veteran theatre personality Darmasiri Bandaranayaka for his several decades-long contribution to theatre and the festival will be opened with his popular stage play 'Trojan Women' at 7 pm on May 24.
The festival will feature 'Swings of Love' directed by M.Safeer, 'The Diary of a Madman' by Joy Maisnam India, 'Amok' by Elmaze Nura (Kosovo), Mimdo's Call by Fatma Keçeli (Turkey), 'You went away' by Ed. Hauswirth (Austria), 'Leaving Ziller Valley' by Reinhard Göber (Austria), 'Mandrágora Circus' by Juan Cruz Bracamonte (Argentina), 'Etheror Irika_Ethereal Epoch' by Mrinal Jyoti Goswami (India), 'Chairs' by Nimasha Fernando (Sri Lanka). 'Nilak Balamuda' by Lakmini Lakshika (Sri Lanka), 'Birds who forgot how to fly' by Anne-Kathrin Klatt (Germany/Sri Lanka) and ' Paata' (Colors) by Nilanka Namal Udumulla (Sri Lanka).
The festival is held under the patronage of International Theatre Institute -ITI (UNESCO) to commemorate the 70th Aniversary of the ITI.