The "Flying Dutch monk" who found his spiritual answers in Sri Lanka
View(s):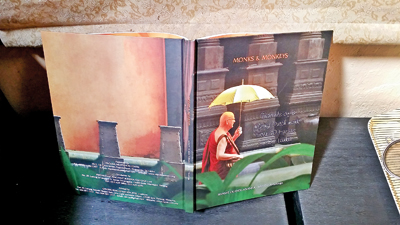 If  "Monks & Monkeys" is the first coffee-table book written on a Buddhist monk, Bhante Olande Ananda deserves the honours of being its subject. Authored by veteran journalist D.C. Ranatunga, the life story of Bhante Ananda, as narrated by the monk himself, relates the extensive spiritual journey of the young, restless Dutch graduate who was groping in the dark in search of spiritual solace. The journey took him through innumerable Ashrams, temples and religious teachers in India till an accidental meeting with a Lankan bhikkhu, led him to visit Sri Lanka.
In Sri Lanka, once convinced of the Buddha's teachings, he was ordained as a Theravada monk. Today, described as the "Flying Dutch monk,"  Bhante Ananda travels extensively here and abroad, propagating the Buddha Dhamma and holding meditation courses.
The slim coffee-table book, simply written in an informal literary style, is very readable. The striking cover picture which captures the spirit of the book, is symbolic of the life of a wandering monk. Sarath Perera is responsible for the photographs used of places and those whom Bhante Ananda associated with in Sri Lanka while Somachandra Pieris has made his contribution with his  saffron-based designs and lay-out.
Professor Asanka Tillekeratne who spoke at the recent book launch  held at the SLFI noted that Buddhist monks, traditionally travelled far and wide to propagate the Dhamma. Bhante Ananda too has trodden the same path. Even in China and Korea,this still happens. As to why  the monk's extensive travels were described on the cover as travails instead of travels, he said that it could  be due to the hardships which travelling monks faced. Referring to the rather strange title of the book – "Monks and Monkeys," he said it relates to the rapport Bhante Ananda had with the monkeys during his meditation retreats at the Rockhill Hermitage in Gampola. Professor Tillekeratne said that besides monkeys often figured in Buddhist stories on rebirth.
Professor J.B. Disanayaka commented on the name the Dutch monk adopted on Ordination from Rudy Hammelburg to Olande Ananda. He said that people of Holland were called Landesi, in short, "Lansi" as we say in Sri Lanka. Therefore, Olande was a better choice. Speaker Karu Jayasuriya and the Governor of the Southern Province spoke of the close association they have had with the Venerable monk.
Why a book on Bhante Ananda? There had been many coincidences that had taken place in the life of the monk which suggest rebirth. It was a discussion of these coincidences during a phone conversation  between Deepal Sooriyarachchi and the author, two common friends of Bhante that the need to record them was sounded and led to the writing of the book.
In 2008, Bhante Ananda felt the urge to go to Bhutan. Rather he says, "it was not me going to Bhutan but Bhutan coming to me," as out of the blues, someone emailed him from Bhutan and said she could organise a trip to Bhutan. His only connection with Bhutan till then was with some Bhutanese monks who in the 1970s visited the Pagoda Road Temple where he was based. With the help of several people, he travelled to Bhutan, a rendezvous where he felt he had spent a lifetime or two. Particularly, when he discovered a mask with three bulging eyes which he remembered having drawn regularly as a small boy in school in Holland without ever having seen it.
Deepal Sooriyarachchi having thus aroused the interest of the author who is domiciled in Australia, the chats with Bhante Ananda commenced on skype whenever the monk touched base from his wanderings. A  chance-encounter Bhante Ananda had with the Buddhist monk  from Sri Lanka whom he happened to meet during a train journey to Kathmandu was also revealed. It was on his advice, in 1975, that he took a boat from Rameshwaram to Talaimannar and arrived in Sri Lanka.
More coincidences followed. Then a young man of 27, on arriving at the Fort Railway Station, he was seeking help to get to his destination – Sri Vidya Vijayarama on Pagoda road, Nugegoda when another young man, later identified as Hemakumara Nanayakkara, gave him directions. Once he arrived at the temple and settled down after a warm welcome from the Chief Prelate, the same young man who gave him directions appeared at the temple apparently to take a few monks to chant pirith to bless his father who was in hospital. The second meeting led to a close friendship between the two which even extended to their families.
The story of Bhante Ananda, unfolds at the time he sat for his MA after he obtained his degree which included Economics and Sociology in Developing Countries  from the University of Amsterdam. As statistics bored him, he attempted a summer course at Cornell University in USA in Political Affairs which he disliked as well.
His father was Jewish and mother, an ex-Christian. With no religious background and while in a disturbed state of mind, a chance meeting in Holland with an Indian Brahmin – P. Narayana Sharma led him to India where he embarked on a spiritual journey. It was this family he stayed with in India who suggested that he followed Buddhism  and he was sent to Varanasi where he visited the sacred Buddhist places.
But his search for mental peace continued. He visited many ashrams and temples in Goa, Pondicherry. Thiruvannamalai in Tamilnadu, Mahabalipuram  and Puttaparthi where he met Sai Baba. He did intensive meditation under committed gurus and attended talks delivered by famous philosophers such as J. Krishnamurthi. It was at this point, in 1975 that he met the Buddhist monk from Sri Lanka while on his way to Kathmandu by train, who navigated him on to the path he searched for.
On arrival in Sri Lanka, the Chief Prelate of the Pagoda Road Vihara and his Guru Ven. Davuldena Gnanissara Mahanayake Thera, gave him accommodation at the temple even before he took to robes. Five months later, he ordained him as a samanera (novice.) Two years later, in 1977, he received Higher Ordination as a Theravada monk. Bhante Ananda speaks of Ven Davuldena Gnanissara Maha Nayake Thera and other leading venerable monks who  directed him on to the path to Ordination with gratitude. As a samanera priest, he learnt to speak and write in Sinhala and later turned out to be the "Sudu Hamuduruwo" whose sermons were eagerly awaited.
The regular invitations that come his way to deliver sermons here and abroad, to hold guided meditation sessions and to participate in international conferences earned him the epithet  "flying Dutch monk" and afforded him the opportunities to meet world renowned religious personalities such as the Dalai Lama. It also made one-time UNESCO Ambassador Dr. Ananda Guruge whom Bhante Ananda often bumped into at international religious venues to suggest that he should not be called Olande Ananda but "All Over Ananda."
Book facts
"Monks & Monkeys"by D.C. Ranatunga. Reviewed by
Rajitha Weerakoon