It all started with a love for old buildings
As Barbara Sansoni Lewcock turns 90 today, her friend and colleague Anjalendran reflects on her remarkable contribution to art, architecture and design in Sri Lanka
View(s):
Barbara Sansoni's interest in buildings had begun in her childhood through the high ceilinged, wide verandah residencies occupied by her father as Government Agent in Batticaloa, Kurunegala and Matale.
That love affair with architecture crystallized in the early 60s. Disturbed by the destruction of the many beautiful buildings that were being knocked down or remodelled in the name of progress, Barbara decided that she would draw these old buildings in an endeavour to save them,  and for herself to enjoy.
Her drawings initially appeared in a weekly series called "Collecting Old Buildings" in the Ceylon Daily Mirror in 1962 and 1963. Some of these drawings accompanied the initial article on the joint work of Geoffrey Bawa and Ulrik Plesner in the Architectural Review of February 1966.With annotations by Ulrik Plesner and Dr.Ronald Lewcock, who joined this effort in 1969, these drawings were published as a coffee table book called  "Vihares and Verandas", in 1978.
With her patronage, seven of these architectural buildings and complexes were measured by Ulrik Plesner, assisted by Ismeth Raheem and Laki Senanayake. With 30 years of scholarship and dedication by  Dr. Lewcock, these reached a total of 96 examples. This magnum opus was published as "Architecture of an Island" in 1998, and has now become a sourcebook.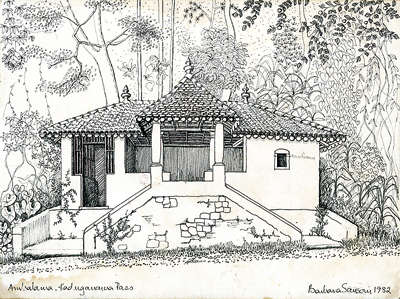 All these publications make one aware of  Sri Lanka's rich indigenous architectural traditions and heritage.
Back in 1958, Barbara had been joined by the now famous Australian artist Donald Friend in drawing on unbaked  tiles in Kelaniya. Inspired by his drawings of every day, her drawings too contained the rich natural landscape to the buildings she drew. No doubt, these inspired the younger Laki Senanayake and Ismeth Raheem, both with their botanical inclinations, to draw the natural settings as an integral part of architectural drawings. These have now become internationally accepted as the Geoffrey Bawa style of architectural drawing
In 1962 Barbara  also commissioned Plesner to build an annexe for herself (he initially lived in it!). With its spatial variations and minimal walls under a simple gable roof, this was one of the forerunners of the resolved duality of 'tradition' and the 'modern',  and has continued to inspire generations of young architects.
Bawa and  Plesner also designed the Chapel of the Good Shepherd in Bandarawela in 1963. For this remarkable Chapel, Barbara who had worked with terracotta  tiles before used this technique to create the 14 Stations of the Cross, and the Psalm of the Good Shepherd which were used in the rec-    essed arched vent niches in the otherwise blank exterior. Barbara also moulded in clay, a life size Risen Christ which was then cast in concrete.  Together these form an integral part of this chapel and add to its architectural ambience.
She also drew designs of  animals, birds and creepers in the St.Bridget's Montessori, designed by Bawa in 1961.
Her interests relating to architecture has  been essayed in numerous articles. These include: "Some Notes on Old Furniture " ( Times of Ceylon Annual 1962), " Lelila's Road (Ceylon Observer Pictorial 1963), "An Essay by a Citizen of Colombo ( Economic Review, April 1980), "A Back-Ground to Geoffrey Bawa" ( in MIMAR monograph, Concept Media, Singapore, 1986) and "Sri Lankan Vernacular" ( Architecture + Design , India,  March-April 1990.
The Barefoot chapter of her life began when the Mother Provincial of the Good Shepherd Nuns requested Barbara to help out with the colours for the weaving centres she had set up for disadvantaged women who had no schooling to learn skills.  As Barbara says, " To match is mediocre, clash divine". Barefoot , a household name in Sri Lanka,  was inspired by the lifestyles of  the weavers and is now a cottage industry involving over 600 women.
Her warp and weft, make cotton often look like silk. Furthermore, the designers of  Barefoot capture moods, flora and fauna and landscape into two dimensional cloth, as demonstrated in the exhibition catalogue " How can it be so right yet, Sarong?" of  December 2004.
These fabrics  and murals have been used in the ceiling of the lounge at Bentota Beach Hotel (1969);  bedcovers and room curtains at the Triton Hotel, Ahungalle (1974), and in the landscape murals at the specialty dining lounge at Kandalama Hotel (1994), and the reception of the Lighthouse Hotel, Galle (1998).
Barbara has used her understanding of colour, to move forward and achieve distance in projects such as the SOS Youth Village, Piliyandala (1989); Anjalendran House,  Battaramulla (1993); Dharmavasan and Julie House, Battaramulla (2001); and the "Crooked House", Battaramulla (2008).
Against the simple background tones of the natural textures of these buildings Barbara emphasized the exposed structure of the building and separated the spaces using the brilliance of the primary colour wheel. Her colours lead one through these buildings and the interaction of these hues make directional movement through these buildings a much varied experience.
Her successful experiments of colouring three dimensional buildings have helped her rediscover her own architectural drawings and present them in colour to show various ways of seeing a building.
I have great pleasure in wishing Barbara Sansoni Lewcock for her 90th birthday, celebrating her architectural contribution, her pioneering revival and design in the field of handlooms, as well as her unique perception of a Sri Lankan identity in colour.