Abusing animals to amuse humans
View(s):

Animals are forced to perform, parade, fight and race for human entertainment.  For humans, it is fun, a gambling option or a lucrative business. For the animals it is agony. Like us, animals are sentient beings with emotions and an expectation to be free from cruelty, abuse and exploitation. Some argue that getting animals to race, fight or parade are local traditions requiring preservation.

In "Some Sinhala Combative, Field and Aquatic Sports and Games", P.E.P. Deraniyagala, former Director of Sri Lanka's National Museums describing ancient sports and games states that, "Combative sports were practised from the earliest times not merely for amusement, but in order to foster a disregard for pain and death, and to inculcate the valour and pugnacity essential for the survival of a race." He mentions gladiators fighting leopards, wrestlers fighting sloth bears,  elephant, bull, buffalo and cock fights, bull racing, horse racing, etc.

Bull races, better known as thirikkal races are a popular event at Sinhala New Year festivals – a cruel sport, amidst joyous celebrations.  Bull fights take place during Thaipongal.  As Deraniyagala records, the bulls dash at each other, interlock horns, twist the opponent's neck, force its head upwards and butt the head or heart causing severe injuries or death.

The Indian Supreme Court recently banned the bull taming sport, jallikattu, where during Thaipongal celebrations, petrified bulls suffer horrendous cruelty.  There were reports of Tamil Nadu's Opposition politicians demanding the removal of bulls from the 'performing animals list' in India's animal cruelty law – an admission that jallikattu is cruel. A local Buddhist monk recently urged the exclusion of elephants from our Prevention of Cruelty to Animals Ordinance, shamelessly scorning compassion – the tenet of Buddhism.

At Elephant races, another New Year festival attraction, these majestic animals are overridden, dragged by the ears and prodded violently with the henduwa to hasten speed.  A plan to race 24 elephants to attract a crowd for Sri Lanka's airport expressway opening in 2013 was cancelled due to safety concerns.  A recent trend is using elephants in school parades during Big Match revelry or School Walks where they are paraded in the scorching sun on asphalted roads.

Horse racing, to some, is a noble sport. But for animal welfare campaigners worldwide, it is an unethical sport. "Behind the romanticized façade of thoroughbred horse racing is a world of injuries, drug abuse, gruesome breakdowns and slaughter. While spectators show off their fancy outfits and sip mint juleps, horses are running for their lives" – that's how PETA (People for Ethical Treatment of Animals) describes horse races.

Cock fights claim numerous bird lives. Feathers plucked and blades attached to their claws, torn off skins, broken bones, punctured lungs and pierced eyes are common in this blood sport.

Zoos are animal prisons where the "inmates" are confined for human entertainment.  Severely depressed, they suffer from 'zoochosis', described as repetitive stereotypic behaviour – swaying from side to side, head bobbing and pacing.  Social animals lack herd companionship.  Fish and cetaceans in aquariums are deprived of swimming vast distances through their natural aquatic habitats. Some animals are made to perform for visitors.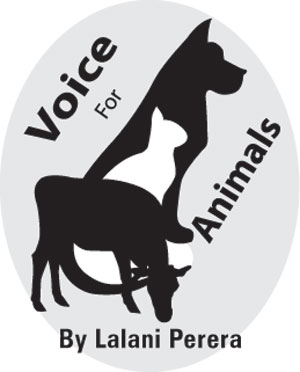 The global trend is to close zoos or create "open zoos." Animal rights campaigners welcomed Sri Lanka's initiative of establishing an "open zoo" in Hambantota in 2016, but a decision to  keep some sections of the Dehiwela zoo open until 10 p.m. received severe criticism. Watching animals behind bars fascinates children, but adults fail to realize that this gives a message that caging animals for human entertainment is acceptable. Gypsies use monkeys and snakes for street performances. Zoos are huge profit making establishments. For the gypsies, it is their livelihood.  Whatever the motive, the result is cruel.
The argument that these are traditions – the lamest excuse when no plausible argument can be offered, is appalling. Age-old beliefs become tradition only through passage of time and some cultural norms become unacceptable, deplorable and obnoxious with changing values. No right-thinking person will perpetuate such traditions.
Overriding, overdriving, cruelly beating, abusing, torturing or causing unnecessary harm or suffering to animals are offences under our archaic animal cruelty laws which will be strengthened once the long outstanding Animal Welfare Bill is enacted. Our Gaming Ordinance prohibits cock fighting, but it continues with some even advertising fighting roosters for sale.  Law enforcement is absolutely weak.
It was a significant victory for animal rights campaigners when the Ringling Brothers and Barnum & Bailey circus closed after 146 years, with the New York Times reporting that the closure was a response to a prolonged slump in ticket sales that rendered the business unsustainable – the reason as  PETA says was relentless campaigning to ensure that every person thinking of attending the outfit's performances knew exactly the kind of cruelty that his or her ticket purchase would be supporting.  Let that inspire us – let's not encourage animal abuse for our amusement.