Retired? Don't rush to the doctor for everything
By Ranjan Abayasekara
View(s):
Generally, in one's working life you have little time for 'deep reflection' – work and home life tend to take up all one's time. If you have any 'medical symptoms', you make an appointment to see the doctor and take any prescribed medication to continue to be at work. Some medicines may need to be continued indefinitely. By the time one reaches 60, 'quite a few tablets' may have become daily companions who help keep one's 'key performance indicators' at acceptable values.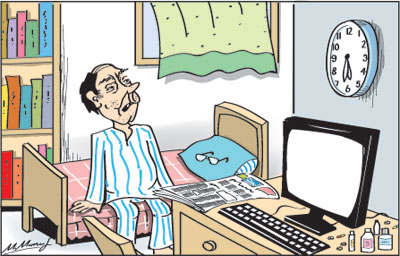 After retirement it is important to change this pattern. If not one is likely to ingest larger quantities and varieties of tablets as the years pass. Another approach may be possible – quite a simple one. It calls for using the 'portable personal computer' we each carry around with us – the brain!
I will illustrate this hypothesis by outlining three examples from the past nine months.
Blood pressure
I take a tablet to keep my BP within the acceptable range. Normally outside winter months in Australia (May-Sept), with the tablet, it is in the range 120-130 (Systolic)/70-80 (Diastolic). In the colder months my BP (daily check – before breakfast) is usually a bit elevated. Last year as usual in the winter month of July the readings rose. At first I increased my exercise to keep this in check. However, soon my BP was regularly in the region of 160(S) /100(D)! Action was required.
I considered the situation. Did I do anything different on the previous evening? No – it was the usual 45 minute walk followed by a cup of hot soup; evening meal about 7.30 p.m. My wife was careful with salt content in our meals. What could cause this increase? Is it age? Do I need to take a stronger dose of medicine in winter? Thinking further I realised that it was only in winter that I had a cup of soup on most evenings. It was not home-made, but the convenient packet from the super-market. I looked at the label. Sodium 660-720 mg per serve. Could this be a 'winter factor'? Regretfully I stopped the evening soup as a trial. BP was back in the 130/80 range. No visit to doctor, no extra medication required. I decided that I would employ this 'deep reflection' method for any future 'issues'!
My wife and I had a great 10-day holiday in Darwin in August. With hotter temperatures there ~33C, I even had to reduce my BP medication, taking only half-a-tablet to prevent Low BP! In September I signed up for 'My Marathon' – a fund raiser for the Heart Foundation. In the 31 days in October I would commit to walk/run a minimum total of 42.2 kms, and friends/family would pledge donations.
Insomnia
October weather was mostly fine, with clear blue skies and sunshine during the day. Stepping out (with a tracker on my shirt recording how many steps I took) was a pleasure. Everything looked good for a successful fundraiser with pledges soon passing the $700 goal I had set.
In early October I stayed up late (a joy of retirement) to watch an EPL soccer match. In the following days I found that it was taking me longer and longer to fall asleep. I was feeling fine and did my walking/jogging as planned. I passed the 10,000 steps mark per day on most days. I did the usual evening activities after dinner: check emails, view some videos on YouTube, watch TV and an hour or two of reading before bed. Sleep was getting more delayed with glances at the bedside clock confirming that I was getting only about 4 hours sleep! What had caused this change?
I resisted the temptation to go to the doctor to 'get something suitable'. When I saw him for another reason I mentioned it. He asked me about stress and I assured him that being retired there was nothing very stressful going on. I did mention about the extra exercise and being pleased having raised $1400 by the walking I had done in October.
In December on our way to Sydney to attend a wedding, we stayed a night with our niece in Adelaide. She had a touch of flu and gave us the use of her bedroom, while she slept on the sofa in the lounge. We arrived in Sydney on the 20th and enjoyed some visits and shopping. On the 23rd I felt a flu coming on, and spent the 24th and 25th in bed! I had to miss all the Christmas action, while my wife was fine and represented us both at all the lunches and dinners! I knew reduced sleep would have lessened my immunity to our niece's influenza. Clearly something had to be done. The book I was reading at the time, 'Brain rules for Ageing Well by John Medina' had a separate chapter devoted to the importance of sleep. 7 hours was recommended, and I knew I should not carry on even though I felt alright with about 4 hours per night. If I was at work there was no way I could have tolerated this sleep regime, but being retired I was able to go through this for a few months confident that I could work out the cause without resorting to addictive medications. Eventually I did.
Having a small laptop set up in the lounge I was tempted to use it most evenings. Sometimes this went on till 10 p.m. If I felt I hadn't got enough exercise during the day I would do an evening walk/jog. If it was warm and sunny, as it usually is in December to March, this walk would be delayed till after 7 p.m. I reasoned that it was probably a combination of the late evening laptop use ('Blue' light) and late exercise (endorphins release) that had caused the change in sleep pattern. Making sure that there were no late walks, and stopping laptop use after 7 p.m. was the answer. By mid March my sleep pattern was headed back to normal.
Weight gain
It is not unusual to gain some weight when one goes on holidays. One's food intake is usually altered, and so too is the exercise regime. It did not surprise me that when we returned from a three week holiday to Sri Lanka and India in February, the weighing scale indicated close to +1.5kg. 'Not a problem,' I thought knowing that the buffet breakfasts, lunches, dinners, desserts would have contributed to this. As had happened after previous holidays, I was sure that my weight would be brought back under control, with regular walks, and normal food intake.
I expected the scale to prove me right after a few weeks. However this time 3-4 weeks went by and the weight showed no reduction! In fact the weight was showing a tendency to even go higher! Could this be due to something growing inside me? Horror! Isn't serious illness indicated by weight loss?
Wait a minute – let's apply some 'deep reflection' I told myself. Food/drink intake is normal – what about snacks? In recent years berries and nuts have come more into our diet. A 'good' item that is included is almonds. I have kept a mix of almonds, cranberries, walnuts in a tin on the dining table. Each time I pass the dining room I tend to take a handful. Sometimes this happens quite a lot! While I had come back to a 'normal' diet, my snacking, especially of almonds had increased in March. I was sure it was the culprit. I have now controlled the almond intake, and glad to see the weighing scale moving in the right direction.
Instead of picking up the phone to see the doctor regarding every medical issue, we should first try using our 'built in PC'. See the doctor only if a satisfactory outcome is not reached by 'deep reflection'.