All that's red
By Dr. Nirmala M. Pieris
View(s):
Red veggies can be considered as full of nutrition with the phytonutrients that give their beautiful colour as well as powerful health benefits. The deeper the red, the richer the phytonutrients the most important of which are the antioxidants, vitamins and minerals, with antioxidants being compounds that protect body cells from the damaging effects of oxidation.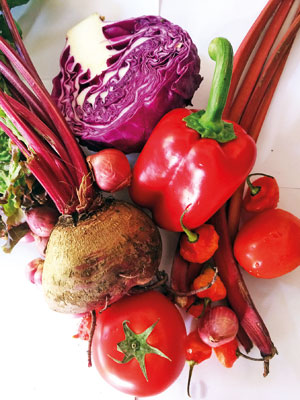 Red vegetables get their colour and nutrition boost from anthocyanins, lycopene and betacyanin, all of which have antioxidant and anti-inflammatory properties. Anthocyanins are water soluble phytochemical pigments that may appear as red, purple or blue depending on acidity or alkalinity. Lycopene is the pigment principally responsible for the characteristic deep-red colour of ripe tomato. Beetroot's deep purple colour comes from plant chemicals called betalains which contain the red pigment betacyanin.
Beets
Beets (Beta vulgaris) in the family Amaranthaceae are one of the richest sources of glutamine, an amino acid essential for the health and maintenance of the intestinal tract. Betacyanin that gives beetroot its colour shows important antioxidant effects that are reported to help suppress the development of some types of cancers. Beets are also a great source of B vitamins, iron, manganese, copper, magnesium, and potassium. Studies have indicated that beets may lower blood pressure, improve blood flow, and boost athletic endurance.
Do not discard the beet greens as they are rich in calcium, iron and vitamins A and C. However, if you have a history of kidney stones avoid over-consuming beet greens and beetroots as they have high levels of oxalate.
Red bell pepper
Red bell pepper is a cultivar of the species Capsicum annum in the Solanaceae family. Red bell peppers tend to be the sweetest amongst the peppers.They are a rich source of antioxidants that include carotenoids such as lycopene, beta carotene, lutein, and zeaxanthin. These carotenoids play an important role in eye health while also providing protection against certain cancers.Peppers are packed with the antioxidant vitamin C and also contain vitamin A and potassium. Red peppers are good in salads and sandwiches.
Red cabbage
Red cabbage also called purple cabbage is a variety of Brassica oleracea with its leaves being dark red in acidic soils and bluish green or purple in alkaline soils. Its deep colour comes from the powerful antioxidants the anthocyanins. This cabbage shares many of its benefits with the other Brassicaceae family members being packed with vitamins K, C and A. It is also a great source of fibre, vitamin B6, potassium, and manganese.Red cabbage is best eaten raw for maximum flavour and nutrients. If you choose to cook it, add some vinegar or lime juice to the cooking water to retain the colour and nutrients.
Red chili pepper
Red chili pepper, Capsicum annum in the family Solanaceae is high in beta-carotene, which is converted into vitamin A in the body. It also contains vitamin C, potassium and copper.However as chillies are eaten in small amounts they do not significantly contribute to the micronutrient intake. Capsaicin which is responsible for the unique pungent taste has the ability to provide pain relief, manage diabetes and help you lose weight. Chili peppers are primarily used as a spice.
Red leaf lettuce
Red leaf lettuce, Lactuca sativa in the family Asteraceae is a rich source of carotenoids, primarily beta-carotene. This is the precursor of retinol the active form of vitamin A. It also contains smaller amount of the carotenoids lutein and zeaxanthin that play a role in the prevention of macular degeneration and even smaller amounts of vitamin K,thiamin, riboflavin, vitamin B6 and iron. As it is 95% water it is valuable for weight management as you can eat a reasonable amount and feel full.
Red Onion
Red onion, Allium cepa in the family Amaryllidaceae is a rich source of quercetin and anthocyanin both of which are antioxidants.  Quercetin is extremely rich in the outer layers of the onion, so utilize the outer, fleshy edible portions as much as possible. These antioxidants are very potent free radical scavengers that neutralize cancer cell growth and dramatically reduce whole body inflammation. The biggest health benefit of red onion comes from its organosulfur compounds that are powerful antioxidants. Red onions are also an excellent source of chromium that lowers blood sugar and enhances cellular insulin sensitivity.
Red radish
Red radish, Raphanus raphanistrum in the Brassicaceae or cabbage family like others in this family produces a compound known as sulforaphane during chewing of the vegetable. Sulforaphane has been suggested to be an anticancer and antimicrobial phytochemical. Fresh roots are a good source of vitamin C and also contain adequate levels of folates, vitamin B6, riboflavin, thiamin, some minerals and many phytochemicals like indoles which are detoxifying agents. They also contain zeaxanthin, lutein, and beta-carotene, which are flavonoid antioxidants.
Rhubarb
Rhubarb, Rheum rhabarbarum in the family Polygonaceae is packed with dietary fibre that aids digestion and also contains vitamins C, K and B complex. The most prominent vitamin in rhubarb is vitamin K, which plays a significant role in brain and neural health, helping to delay or even prevent the onset of Alzheimer's disease. Moreover, vitamin K contributes towards bone growth and repair. Rhubarb is also a rich source of beta-carotene, lutein, and zeaxanthin. Those with kidney or gastrointestinal conditions should avoid rhubarb. Rhubarb leaves should never be eaten as they contain toxic levels of oxalic acid.
Tomatoes
Tomatoes, Solanum lycopersicum, in the family Solanaceae are the major dietary source of the antioxidant lycopene, which has been linked to many health benefits, including reduced risk of heart disease and cancer. Lycopene is fat soluble, so cook tomatoes with a little bit of oil to make absorption easier. They are also a great source of vitamin C, potassium, folate and vitamin K and also contain vitamin A and iron. Eating tomatoes daily can keep your digestive system healthy as it prevents both constipation and diarrhoea. It also prevents jaundice and effectively removes toxins from the body.