Jazz mania hits Kandy
View(s):

A popular Jazz Band from Germany was in action recently at the Grand Kandyan Hotel at their monthly High Tea event on the 31st of March 2018.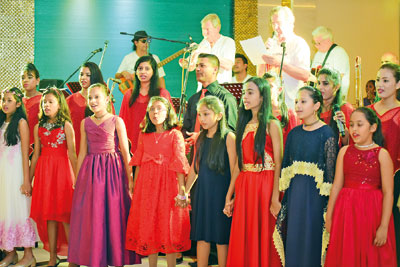 This was the 3rd 'high tea' event organized by the hotel and the very first time foreign artistes were seen in action to entertain more than 230 guests, who were gathered to enjoy the event.
The NOC-New Orleans Connection, a Jazz band is one of the most reputed jazz bands in Germany. The members of the band had met for the first time in New Orleans, USA and that's why they go as 'New Orleans Connection Jazz Band even though they are from Germany.  The band has been formed in 1992 and the musicians started to travel around the world as the official Cultural Ambassador of the City of Hanau, Germany. Through their engagement for jazz music, the musicians established and activated potentials for jazz music in their country, which is now an essential part of the music-scene. The Musicians of the New Orleans Connection Jazz Band were declared honorary citizens of the city of New Orleans in 1992 by the Mayor of New Orleans.
The band has been seen in action all over the world at Jazz festivals for more than two and half decades. Kandy was their very first venue in South Asia. Based in Frankfurt performing in the locality mainly, NOC is a popular outfit performing frequently in New Orleans, California and the West coast of the USA. Apart from that, their major concerts were held in Australia, Canada, South-Africa, Russia, Cuba and many European countries.
'Our main purpose of organizing this event is to build a bridge between the cultures of Germany and Sri Lanka. And to showcase that 'Kandy' is a safe place to travel after the recent disturbances' said Susith Samaraweera, the General Manger of the Hotel.
The hotel is planning to have their next 'high tea event' on 12th May 2018 with another exciting concept.