Japanese embassy staff's spouses support educational causes
View(s):

Two NGOs — Surangani Voluntary Service (SVS) and Only One World (OOW) – were the recipients of Rs. 342,400 in donations raised by the Association of Spouses of the Japanese Embassy Staff (ASJES) through the International Christmas Charity Bazar (ICCB) 2017 held at the Hilton Colombo Residences on 26 November 2017.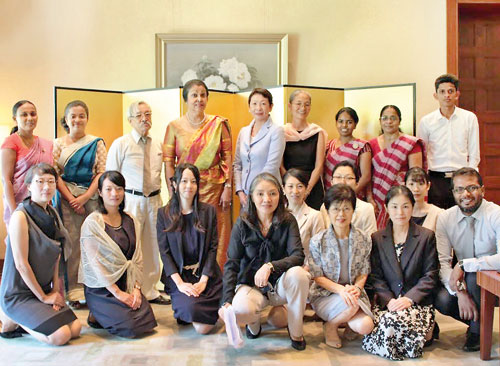 The donation was presented to them by Akiko Suganuma, spouse of Ambassador of Japan to Sri Lanka, at a ceremony held at the Japanese Ambassador's official residence recently. The Association has supported activities of many NGOs in Sri Lanka for more than 30 years. SVS, founded in 1992, supports mainly preschool and special needs education in Sri Lanka. The organisation was represented at the ceremony by its director Shigeko Baba, a Japanese national. The donation from ASJES will be utilised to buy copy equipment for SVS's Colombo office. This is the 17th donation from ASJES to SVS since 2001.
Ms. Baba said: "We have been managing a lot of documents using an outdated photocopy machine for the programmes for children of poor families or those with special needs. We are grateful for the donation by ASJES as it will help in strengthening our administrative capability."
OOW was founded in 1991 by former Ambassador of Sri Lanka to Japan, Arthur Basnayake, and his wife Mrs. Damini Basnayake. OOW grants scholarships to bright and deserving students. This is the sixth donation from ASJES to OOW since 2013. The donation from ASJES will be utilised to award monthly stipends for four years to two students, Sulochana Maliduwa Liyanage of Sangamitta College, and Ishara Maduwantha Premaratne of Pinnawela Central College
The awardees expressed their gratitude to OOW and Japan at the ceremony.
Ms. Sulochana thanked the Japanese Embassy Staff's Spouses for the award and said: "I intend to utilise the award wisely to reap maximum benefit from it to become a useful member of society". Mr. Ishara thanked the Japanese Embassy Staff's Spouses for helping Sri Lankan children realise their full potential through education and said: "I intend to use this award to help prepare myself to serve my country well".