Verses that make an unseen world jump out of the page
Michael Roc Thomas, the author of a compendium of 56 verse stories 'Seeing Better Now' tells Yomal Senerath-Yapa what inspired him to write
View(s):
"The Colony" was where, after a long peregrination across the world, Michael Roc Thomas decided to lay anchor. This house in Tangalle, an elegant British seaside villa built in the early 20th Century, is now a hotel, but it is still a delight to wander through. The sea, the grass, the palms and frangipani lend their peaceful magic to the restful spaces decorated in black and white, bird of paradise-like Heliconia and exquisite taste.
Michael Roc Thomas settles down in the restaurant which has for its horizon the shimmering morning sea. We want to talk about his maiden oeuvre as a writer, but it all began with his daughter Steele, so we turn first to the story of the pretty blonde girl of 11, I glimpsed poring closely over a phone at breakfast.
Steele Sapphire Forbes-Thomas (whose first name comes from her celebrity grandfather Anthony Steel) was born prematurely, and so fell victim to retinopathy, which resulted in failing eyesight. Michael with his wife Alison launched a battle to make her see daylight. Thanks to surgery, Steele now has limited vision in her left eye, though she has to strain to see.
It was his attempts to help Steele make out the beauty of the world she was born to, that brought out the scribbler in Michael- long dormant since the days of composing love poems for girlfriends on backs of napkins. He progressed from one silly rhyme to one entertaining ditty, and found to his surprise that he was fast developing into an excellent versifier cum storyteller cum poet!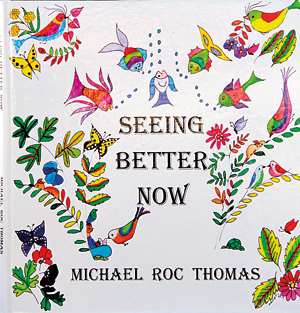 Over the years he was to write more than 450 stories to hone Steele's aural sense. The very cream of it is offered to you in the delightful book, Seeing Better Now; a charming, broad, flat square of a volume that is a gift to bring joy to anyone- child or adult- on Christmas (or even over the Avurudu table for that matter).
A compendium of 56 verse stories engulfed by colourful illustrations that reflect the quirkiness of the poems, the book at first makes you think of the Victorian poetry by Edward Lear, Rudyard Kipling, or Lewis Carroll. But unlike A Book of Nonsense or The tale of the mock turtle, most stories by Michael Roc Thomas have a firm relevance amidst all the wacky fun. True- there's playful, zany rhyming and lots of bizarreness, but most of them have embedded in their heart a meaningful story and message.
Take the section titled Survival, the third of the five sections. Here animals are the heroes. The verses celebrate the enigmatic sixth sense beasts and birds possess and we lack; moving, majestic stories of how they valiantly, nobly fight captivity and mass extinction at the hands of man; and the innocence and indeed the virtuousness of animals. Michael is deeply concerned about the disappearance of the natural world, flora as well as fauna, through the selfish acts of humans. There's something profound encrypted in the simple two lines from Fishy:
"If all the little fishies left the sea
We'd share their fate just wait and see".
Or from Gorillas Will Be Missed:
It's simple for folks to say
It's not our fault, it's far away
What can we do? We can't assist
Yet how gorillas will be missed.
But rest assured Michael plays no doomsayer on a green crusade; just a "naturalist in flip flops" very much in love with nature, especially Sri Lanka's natural splendour. Most of his poems have a humour that inevitably tickles you, though some have a bittersweet edge and others are doleful. But mostly it's like a tonic for those who are world weary, lifting spirits that have lapsed into sad shades of grey. This is because the storyteller is delightfully young and enthusiastic at heart, spared of the cynicism and rancour that gather with age.
He believes that these poems should be savoured slowly- not more than three a day. And indeed he is right. They are of a huge variety of themes and so makes for slow degustation and absorption for maximum pleasure. Many make you think, but there are few that are blithely Learian, such as A Flamingo Called Liz who "conquered the world of show biz".
"While in all the great parts she played
From grand duchess to mischievous maid
She would always insist
The plot had a late twist
And the script was as sharp as a blade.
Though she lived to a splendid old age
When she didn't eat shrimp she turned beige
So instead of light snacks
She would feast to the max
Before making her way to the stage."
Many stories are Sri Lankan, celebrating the polecats that wander the ceilings and the mice that steal the soap from the bathroom; the joys of drowsing in the verandah in the heat of the afternoon and so on, but you will also find tales from Australia, the UK, Switzerland and Vietnam here.
Sally Hulugalle who illustrated the major part of the book has been uncannily intuitive in capturing the essence of these poems; Michael himself being pleasantly astonished at how she 'simply got it'. She colourfully enhances on the childlike exuberance, the joie de vivre or the carefree island spirit woven into the verses. Ruwangi Amarasinghe, the other illustrator, has a poetic touch, her beautiful work of art for Tiger on the Run reflecting the horrors of captivity and the joys of freedom so dramatically.
Michael Roc Thomas's own story is as colourful as- if not more so than- the book he has turned out. He was the only child born of the union between the famous British movie stars Patricia Roc and Anthony Steel; she the first British star to go into Hollywood and him the dashing hunk in uniform in so many English war films. This was the golden age of the cinema- the '40s and the '50s- when 30 million cinema tickets would generally get sold within the UK in one week. Born in Paris, Michael was barely nine months when his mother swaddled him and took him to Rome, where an Italian nanny cared for him. After studying at Stowe, Buckinghamshire, he became a fashion photographer working in Cape Town, London and Madrid.
It was his wife Alison who decided Sri Lanka would be an anchoring point in their birds of passage existence. Though the couple and Steele no longer live here permanently, they return frequently. None can deny that moving in was indeed serendipitous for Michael. It was here that he became a father and consequently a poet.
After all is said and done, Michael is happy that he gave up a career as a photographer to drift into writing. He usually waits for an idea to catch him, and that idea is kicked off with a title. That it is the title that triggers the whole poem for him, he defends firmly.
It's all in the title
Seductive or spiteful
It's all in the title for me
I think of the title
Which must be insightful
To bring back an old memory
Perhaps it sounds frightful
To start with the title
But that's how I like it to be.
I find it delightful to think of a title
It's all in the title for me
But this amazing book is not the only wonderful thing that came about through Michael's writing. Steele's own achievements, so remarkable for a pre-teen, show that having vision problems have not crippled her. Michael gives credence to the belief that when one's sense is affected, other senses rally up to compensate, and become sharper. It is obvious, however, that her father's versifying must have helped open up an inner awareness in her, for she now writes short stories which Michael is proud to say are very mature, and she has been admitted to the MENSA, the British high IQ society. She also won a scholarship to the Centre for Young Musicians (part of Guildhall School of Music) in London to study voice & piano- both of which she excels at.
Another book, Michael says, is in the wings, and won't take long as there's plenty of material just waiting to go under the red pen; good news for the many fans he has garnered since the book was launched early this year at the Fairway  Galle Literary Festival.
'Seeing Better Now' is available at Coco Tangalla in Tangalle, Barefoot, Colombo & Galle and Milk & Honey, Colombo. Parts of the profits from the sale of the book in Sri Lanka will go to NEST, a registered charity that looks after dispossessed Lankan children with chronic disabilities.