Raising a cuppa to a flavourful 25 years
View(s):

Hidden flavours from a spectrum of colourful teas pervaded the Cinnamon Lakeside Lobby Lounge on April 5 as Dilmah celebrated 25 years of tea in collaboration with Cinnamon Lakeside Colombo launching the Silver Jubilee Afternoon High Tea.

An exquisite blend of tea mixology in a perfect marriage with afternoon delicacies was meticulously prepared by Cinnamon Lakeside's executive chef Kapila Jayasinghe and his team. They aim to showcase the world's finest tea from Sri Lanka with an unforgettable tea gastronomy experience.

The Dilmah Silver Jubilee Gourmet range will feature a range of fresh, homegrown Ceylon teas celebrating its diversity whilst also remaining true to its origins. Dinners can now sample twists of Dilmah's trademark teas like Silver Jubilee Earl Grey, Organic Sencha, Blood Orange & Eucalyptus and Mandarin & Marzipan Pekoe at the Cinnamon Lakeside Lounge.

With 18 varieties of teas from Dilmah's Silver Jubilee range, the Lobby Lounge has helped orchestrate a tea infused menu for afternoon high tea patrons. Desserts paired with complimentary teas, tea cocktails, chai, iced teas, and infusions to name are a few exciting variations in the menu.

Dilmah founder Merrill J. Fernando along with his sons Dilhan C. Fernando and Malik J. Fernando, CEO of Dilmah Ceylon Tea Company, graced the event with Dilhan speaking at a round table presentation of the eclectic selection of teas offered. "You can combine tea with anything," Dilhan heartily shared, adding that at Dilmah the pairing of tea with food is done with "respect to the tea" allowing tasters to bask in the preserved "character, structure and aroma of the tea".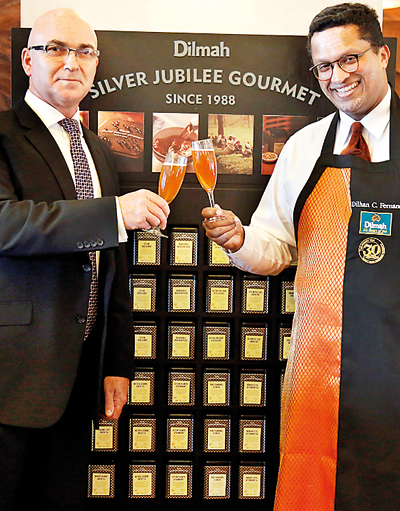 Dilmah tea which is built on the heritage of Ceylon highlights the pureness of its teas giving each brew personality and complexion. Dilmah tea, Dilshan explains has the highest respect for the "fundamentals of tea" from the best of fresh handpicked tea, high in antioxidants, primarily consumed for wellness to even becoming an exemplary nightcap.
On Dilmah's collaboration with Cinnamon Lakeside Dilshan smiles "Tea has an incredible synergy with food".
Over their 25 years of operations, Dilmah is known for encompassing a range of Sri Lanka's finest spices and ingredients and teas like the "Ceylon Ginger, Honey and Mint" have multiple health benefits.
The lounge will be open daily from 6 a.m. to 11 p.m. The menu will feature an array of hot teas varying from black tea, green tea to infusions along with a collection of tea inspired sweets, savouries, iced teas, chais, mocktails and digestives. A special Afternoon Tea Programme featuring tea gastronomy and mixology will be also available from 4 p.m. to 6 p.m, daily.