Around the world with Graze Kitchen
View(s):

They say the best way to experience the culture of a city is through its street food. Albeit messier and less refined than most dishes, street food is undeniably satisfying and true to its roots. The Hilton Colombo's premier restaurant, Graze Kitchen now invites diners to take a globe-trotting culinary journey through the cities of the world every Monday night, with their Hawkers' Market buffet. The buffet features street food from across Asia including Thailand, Malaysia, Japan, India, Vietnam, Indonesia and Sri Lanka, as well as from Turkey, Italy and the US. Each of which has been curated by their in-house chefs, specialising in national cuisines.

Guests will find quintessential street foods such as crisp Vietnamese rice paper rolls, Thai tom yum and laski, Malaysian roast chicken and rice, and American hotdogs. You'd also come across lesser known but no less delicious items, such as the Italian Agnolotti and the Japanese Tamago Yaki – the former, a delicious breaded and fried ravioli, while the latter is a sweet tasting omelette on a stick.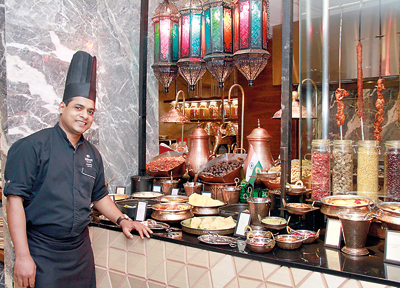 Invoking true street style, Graze kitchen also offers several live food stations, adding a visual element to the culinary experience.So take a stroll down Galle Face with their achcharu (pickle) stand, the bustling streets of Chennai, or the Italian piazza, and enjoy the best of street food the world has to offer at the Hawkers' Market.
Graze Kitchen will be hosting their Hawkers' market buffet every Monday from 7 p.m. to 10.30 p.m. The buffet is priced at Rs. 2888 nett per person.For more information or reservations at Graze Kitchen,contact them on 011 2492492 or email colombo@hilton.com.