Appreciations
View(s):

A large-hearted man and a guru in the legal profession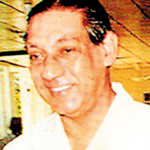 Dr. H. W. Jayewardene QC
Twenty-eight years ago on April 19, 1990, Dr. H. W. Jayewardene, QC, a colossus in the legal profession, passed away whilst on a visit to India. It was the end of an innings of a great legal luminary Sri Lanka had produced. It was a loss not only to his wife Claribel, son, daughters, in-laws and grandchildren but to the legal fraternity at large.
Dr. Jayewardene was an advocate par excellence, and at the time of his death, had completed 49 successful years at the Bar. Born to a family of lawyers, Dr. Jayewardene was conferred silk at an early age. Fame and success came to him in a short period with hard work. Civil law was his forte and the later years of his practice was dedicated to the appellate courts where he excelled in every case he appeared. The law reports of Sri Lanka and England bear ample testimony to his brilliance.
The legal fraternity of Sri Lanka owes deep gratitude to Dr. Jayewardene for his contribution to the legal profession in many ways. When the Bar Association of Sri Lanka came into being in 1975, he was its first president. Where there was a move by the then government to shift the courts from Hulftsdorp to Bambalapitiya, it was Dr. Jayewardene, an energetic lawyer who steered the opposition with success. He was instrumental in getting the Government of China to construct the Superior Courts Complex in Hulftsdorp which to-date houses several appellate courts, the Supreme Courts, including the ceremonial Supreme Court, the judges chambers, the Ministry of Justice etc. Even the trees that stand in the said superior courts complex were planted under the strict stewardship of Dr. Jayewardene. Many others in his position would have wished to get their names inscribed in a prominent place in the Court complex for posterity but not he. Dr. H. W. Jayewardene was a true leader of the Bar.
Dr. Jayewardene was a keen student of the law and a great teacher who was always willing to share his knowledge with fellow members of the profession. The large number of lawyers who learned the intricacies of the law in the chambers of Dr. H. W. Jayewardene, QC, include judges, politicians, senior practitioners, President's Counsel and several others. The high calibre advocacy, meticulous chamber work and academic approach to any legal issue are some of the valuable lessons he imparted to juniors under his wing. As a lawyer who started my career at his chambers we were well aware of the hard work put in by Dr. Jayewardene to his clients' cause and in several cases without any payment, pro-deo. Dr. Jayewardene enjoyed working with his juniors in chambers and in courts and ensured that they were all well equipped to be exemplary in the profession. I am happy to note that Dr. Jayewardene's grand-daughter Shahila Wijewardene, a law graduate from England who completed her Attorneys in Sri Lanka and apprenticed in my chambers is now a busy practitioner in the chambers of Harsha Amarasekara PC following her grandfather's footsteps. Coincidentally Harsha Amarasekara PC and I were the last two juniors of Dr. Jayewardene QC's Chambers.
The other contributions made by Dr. Jayewardene to the country were not limited to the legal field. He held several important posts in the public and private sector including Chairman of the Sri Lanka Foundation. He also led the team that participated in the Thimpu talks in order to reconcile the burning issue of terrorism at that time. He was a perfectionist and his achievements are far too many to mention in an appreciation.
A few years back the Bar Association of Sri Lanka named its main auditorium in Hulftsdorp as the 'Dr. H. W. Jayewardene QC Auditorium', a fitting tribute to his services to the legal profession.
He was a true Buddhist who followed the precepts of the Buddha in his own quiet way. Dr. Jayewardene was a devoted husband and a wonderful father.
It is said that writers leave behind their books and teachers leave behind their students. It is a fact that Dr. H. W. Jayewardene QC has been a large-hearted man and a great guru to several in the legal profession.
May he attain Nirvana.
 Dr. Harsha Cabral
---
An entrepreneurial engineer with the Midas touch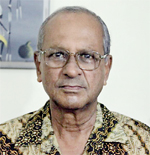 Thakshan Kumara Gamini Ranasinghe
It is almost three months, since my friend, Thakshan departed this world,  at the age of 76 years leaving a permanent void in the hearts of everyone. His demise marks the end of an era of 40 years as a chartered mechanical engineer, mostly encompassing the coconut and agro-based industry in the small and medium enterprise sector.
His contribution as a hands-on engineering consultant in the spheres of pre-feasibility and feasibility studies, diagnostic studies, rehabilitation of ailing industries, restructuring and privatization studies, technical audits, in-depth evaluations of technical assistance projects and design and implementation of ISO 9000 quality management systems had an immeasurable impact on the industry, enhancing the productivity, profitability and the efficiency of operations of every assignment he touched all over the world. In that sense, Thakshan can be more appropriately referred to as an entrepreneurial engineer with the Midas touch.
He was born in November 1941 into an aristocratic family of Rosmead Place, Colombo 7. His father was Professor  D. A. Ranasinghe, the most sought Obstetrician and Gynaecologist of that era who later became the Chancellor of the Colombo University. His stepmother was Anne Ranasinghe, an internationally renowned Jewish-German born poet who passed away recently.
He had two brothers (Ananda and Nihal) and four sisters (Rohini, Kushlani, Shanti and Renuka) and his upbringing in a scholarly family environment gave him a formidable foundation. His three sons, Lohit, Ruan and Mevan are domiciled in  the United States and Australia. His sister Kushlani  and her  husband Mahendra Amarasuriya had been a tower of strength to him at the final stages of  his life.
Thakshan was privileged to receive a wholesome education from Ananda College, Colombo and later at Trinity College, Kandy. Thakshan was the only Trinitian who gained entrance to the Engineering Faculty in 1959. He was an athlete at Trinity establishing a pole vault record. He  earned a B.Sc Degree in Mechanical Engineering from the University of Ceylon in 1967.
His two publications on "Modern coconut management, " compiled whilst he was at the FAO in 1999 and "Coconut Processing Technology Information Documents in the Asian Pacific Community" in 1980 as a UNIDO Consultant bear ample testimony to his expertise in the coconut industry.  The pinnacle of  his career was being appointed Senior Partner (since 1992) at the HAP Consultants, Denmark, overlooking the South Asian Region.
He was a Chartered Engineer, United Kingdom as well as a member of the Institution of Mechanical Engineers, UK. He was also a member of the Institution of Electrical Engineers, UK (manufacturing group). He is also a  Fellow of the Institution of Engineers, Sri Lanka. In addition, he had received the Membership of the Plastics and Rubber Institute, Sri Lanka.
His services were constantly sought by leading clients such as UNIDO, FAO, World Bank, ADB, Danida, GTZ, reputed conglomerates in Australia, Indonesia and Netherlands in addition to numerous public, private, and cooperative sectors in Sri Lanka.
Thakshan worked in  South Asia, South East Asia, Pacific, Africa, Middle East and the Far East and had received commendations from countries such as Fiji, Papua New Guinea, Solomon Islands, Vanuatu, Western Samoa, Tuvalu, Kiribati, Marshall Islands, Truk State of FSM and Yap State of FSM and  Africa, which included Mozambique, Seychelles, Tanzania, Zanzibar.
Some industrial ventures in Indonesia, Malaysia, Philippines, Thailand, Vietnam etc sought his intervention to handle critical engineering and production issues at the last stage of his life and his magnanimity in providing counsel without any professional fee has been a hallmark of  his simplicity.
Thakshan rendered a yeoman service to the country by setting up an activated carbon and charcoal factory of Hayleys Group  at Madampe in 1972 in his capacity as Factory Manager. He was a pioneer trained by a foreign collaborator in India on activated carbon technology.
Thakshan is credited with the invention of over  200 products in cottage industries and handicrafts in about 25 countries. These included edible products such as food nuts, young coconut water, copra (oil seed), oil milling, oil refining, copra cake, desiccated coconut, coconut milk and cream, sap, treacle, sugar, alcohol, vinegar etc and non–edible products such as animal feed, white and brown fibres, fibre products including twisted fibre for car seats, shell flour, charcoal, activated carbon..
Thakshan was a true friend and  I enjoyed working with him for over a decade on World Bank and ADB funded projects. I was a regular visitor to his Kirulapona house when working on projects and we spent sleepless nights burning the midnight oil  and enjoying the hilarious events he narrated.
I had the privilege of learning the rudiments of drafting project reports in precise form and in that sense, he was a mentor who greatly influenced my life.  His hobby was dancing and he illustrated the finer steps, whenever we got bored of project issues at his home. He was so humble to provide accommodation and sumptuous meals to project experts whenever their services demanded their presence  in Colombo. His voice was very manly and commanding, but his heart was absolutely soft.  He was very cheerful, courageous and objective in his endeavors.
It is unfortunate that the last project we handled on the tuberous crop could not see the light of the day. It would be a gross injustice, if I do not mention his name for the professional inputs he disseminated on the sphere of value addition and packaging.
His death is an irreplaceable loss of an entrepreneurial engineer who was a colossus in the engineering fraternity.
May he attain the Supreme Bliss of Nirvana.
 J.A.A.S.Ranasinghe
---
A letter from a father to his angelic son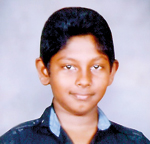 Rashi Perera
Darling Rashi, you became my son when you were born on December 23, 1999 and became my joy-giver during your infancy. During your younger days we were playmates.  When you became little bit older, with your outstanding performance in studies, sports and music, you were my achiever and entertainer. You were my reliable friend and advisor when I faced challenges. From the day that you took your heavenly assignment on April 15, 2013, you became my special guardian angel.
Five years have passed by and all our loved ones might feel that Thaththi and Ammi (Ruwini) must be in control of the past dreadful situation. But my dear Angel, you know the correct picture. Each and every time I drive to work, I still remember dropping you at school, whenever we go out shopping, I can still recall how you would climb on the trolley for me to push. Each time we attend a party, I still cherish the good old days that we partnered together providing sensational music to lift the party spirit up and at church, the way you stood between us with your innocent smile. These are just a few of the times we miss dearly.
For all these times I have only one prayer to say to the Almighty, "Thy Will be done – you know what's best".
As a God fearing young lad, your spiritual life on earth is indeed a great learning to our lives. Your desire to be sinless while forgiving others who treated you unfairly, set us an example on how to meet God's expectations. Your great kindness to the poor, sympathy towards the needy, compassion for the underprivileged children, understanding of others' agony, are just a few qualities that you had that are very rare to find in today's world. Furthermore, your prayerful life with immense hope and faith in the Almighty God, exhibited your heavenly assignment on earth.
I still browse through the heaps of certificates that you were awarded for studies; remembering the hours you spent with your mum, studying vigorously to become the best in class. I still recollect the trophies you won for sports and other extra activities that exhibited your sheer determination, strength and endurance. Though I'm not a great musician like you, I still keep your instruments in good condition while playing a few melodies to bring back your sweet memories. Darling, you are my role model who used God's given talents to the maximum.
My darling Rashi, when you were born, you cried  and we all were smiling and celebrating with absolute joy. But at the time of your demise we were all shedding tears in sheer misery, but surely, you were smiling since you were in the heavenly realm. Many a time when I was depressed, you appeared in my dreams to greatly console and advise me.
During the past five years, I have realized the wondrous ways in which our Lord acts on one's life. At a time when life was testing my faith due to your sudden departure, I was privileged to become even closer to God and praise His phenomenal ways of doing things. Due to the continuous faith Ammi and I had, the Almighty gave us a beautiful son, very much like you, whom I know, you were fully aware of well in advance. I am sure your prayers from heaven helped us to have your beautiful brother Jevon (his name means gift of God).
Until we meet you in person in the heavenly kingdom, please do intercede for us to walk closely with our Lord, Jesus Christ.
Lovingly,
Thaththi (Malin Perera)
---