ISSO COMPLETES 2 YEAR MILESTONE
View(s):

'Isso', a delightfully quaint dining spot nestled in Sulaiman Terrace, Colombo specialising in prawn-centric gastronomical experiences, is celebrating a milestone in the form of their second anniversary this year. Conceptualised and founded by Apinash Sivagumaaran, Fawaz Fassi and Shuaib Yusoof, 'Isso' a local and currently growing brand, was established in an effort to re-introduce prawns with a novel concept, packaging it as a convenient and delicious quick-food option that is not only fresh and appetising, but also available within an affordable price bracket.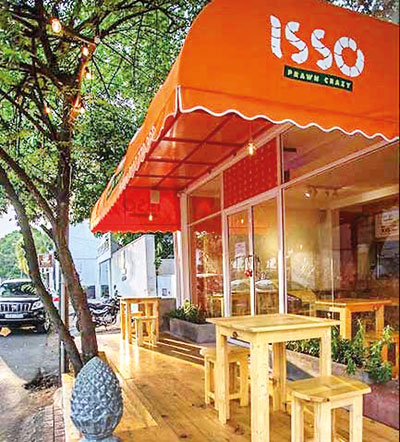 Named evocatively after the local term for prawns, the restaurant aims to consistently enhance an appreciation for this particular commodity, cleverly and artistically merging Sri Lankan, Thai, Japanese, Indian, Italian, Singaporean and Chinese cuisines into their menu. Customers are able to pick and choose from a wide variety of options, personalising their final dish according to their personal preferences.
The simple, 3-step process, includes first selecting the size of your prawns (Shrimp, Regular and Jumbo). Next, picking how you would like your prawns to be prepared, and finally picking your choice of 'crab'. They also include a complimentary, freshly-tossed salad, for a wholesome and delicious meal in one. Complete with a charming wood effect, the restaurant itself is looking to expand, so as to facilitate an enhanced dining experience.
Open from 11.00am to 11.00pm throughout the week, 'Isso' offers take-out, dine in and delivery services (within Colombo city limits), along with outdoor seating and reservations. Orders for on-demand or scheduled deliveries can be placed via their website, the ISSO app or hotline as well, after which an Isso delivery rider will deliver the food within 45 minutes of the order placement. Over the past year, the restaurant specifically noted that the delivery segment of the business has been a positive driver, with a growing demand for this service as a result. Having studied this pattern for a whole year, they are now gearing up for the introduction of their newly revamped delivery service, where they will also be investing in brand new Vespa bikes, delivering prawns to all neighbourhoods in style.
Customers can also expect the utmost convenience and efficiency via their online platform, where your favourite 'Issocombos' can be ordered at your pleasure.
Furthermore, given that there are not many restaurants in Colombo apart from the popular international franchises that offer their own delivery services via their own app/ website, Isso is confident that by offering this service they will be able to present Colombo's busy customers with a hassle-free option as the go-to restaurant for all prawn cravings.
Incorporating a fresh perception and a commitment to deliver an exceptional service every single time, Isso has rapidly grown into a resounding success within a short period. Steering clear of a supremely complicated menu has allowed them to embrace their main product wholly, whilst diversifying successfully.
The many enticing combinations ensure that customers are treated to a spectrum of culinary possibilities. Opt for sweet potato fries, isso wade or corn-on-the-cob, or better yet dive headfirst into their spicy Jaffna curry (Northern Twist) or their creamy Italian prawn pasta (The Italian Job) to name a few.
'Isso' is currently preparing for their highly anticipated launch in Male, Maldives, taking their love of prawns across borders.
'Isso' caters to a wide spectrum of taste palates, using only the best quality ingredients from the region. The core concept is prawn-centric, and the simple three step process allows you to customise your own combo meal by initially selecting the prawn size, followed by the preparation style and the type of crab.
For more information, call 777 0300 or hello@isso.lk.